No same-sex couples (yet) for Strictly Come Dancing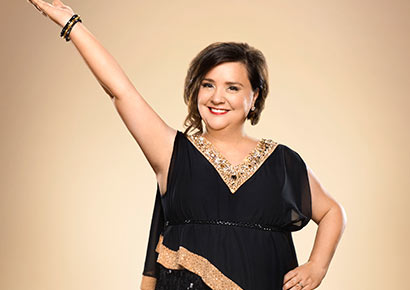 Despite growing pressure, the BBC has confirmed that it has no plans to allow same-sex couples to compete on Strictly Come Dancing.
The contentious issue once again came to the fore in the show's latest season after openly lesbian comedian and writer Susan Calman (pictured) was paired with a male professional dancer.
Calman was slammed by some members of the LGBTQ community on social media for participating in the popular TV dance contest and not demanding to have a female partner.
She responded that she had chosen to dance with a man and had proven her credentials as an LGBTQ activist in the past. "No one can say I haven't stood up for my community," Calman said.
She told the BBC: "No one is holding me hostage in this room, making me wear a dress and dance with a man. I want to learn how to dance."
Calman added: "I think politically, there's nothing more powerful than having an openly gay woman on the biggest show on television, whose wife's on the front row, doing what she wants to do."
Another of the show's openly gay contestants, the Rev Richard Coles, who was a member of the 1980s band the Communards, said he supported including same-sex couples in the contest.
He told Digital Spy: "It makes absolutely no sense that anybody resists the idea, in principle. It's just a question of doing it." Coles pointed out that this year, which marks the 50th anniversary of the decriminalisation of homosexuality in the UK, would have been a good opportunity to introduce the option on the show.
A spokesperson for the BBC, which broadcasts the series in the UK, said, however: "Strictly has chosen the traditional format of mixed-sex couples and at the moment we have no plans to introduce same-sex couples in the competition."
In 2014, some officials from the British Dance Council controversially attempted to ban same-sex dancing partners from competing against opposite-sex couples but their efforts ultimately failed.
In May 2015, Freed of London, one of the world's leading specialists in dance footwear, announced that it would use the image of two men tangoing in a campaign for their range of dance shoes.