Kenya bans 'gay' Disney show on MultiChoice for all of Africa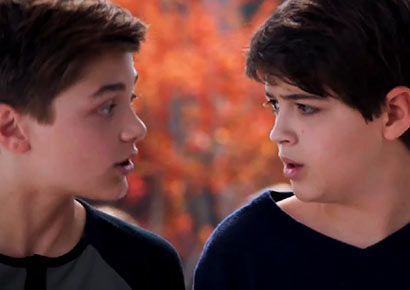 Viewers across Africa have once again been held hostage by Kenya's homophobic censors who have forced MultiChoice to ban the gay affirming series, Andi Mack.
The Disney teen television show recently made headlines after it was revealed that the character of Cyrus (Joshua Rush) will develop feelings for Jonah (Asher Angel), making Cyrus the Disney Channel's first gay main character.
In the premiere episode of the second season, shown in the US last week, Cyrus bravely came out to his friend, Buffy (Sofia Wylie).
The bigoted Kenya Film Classification Board (KFCB) has responded by announcing that the series will not be allowed to be screened in the country.
In a statement, the board said Andi Mack "has scenes with subtle messages that seek to normalise homosexuality among young people."
It claimed that this is a "deliberate glorification of homosexuality" and "is, without doubt, part of a wider scheme by the media to promote the Lesbian Gay, Bisexual and Transgender (LGBTQ) agenda among children through TV programs."
In a series of Tweets, Ezekiel Mutua, the CEO of the KFCB, asserted that "gay content will not air in Kenya. .. PERIOD!" He added that, "When it comes to protecting children from exposure to bad content we are resolute and unapologetic."
In a follow-up statement, Mutua thanked MultiChoice, which broadcasts the Disney Channel across Africa through its DSTV platform, for its "prompt and responsible response" by agreeing to ban the show.
Mutua further applauded the company "for respecting our cultural imperatives and upholding the protection of children from accessing unsuitable content."
The Disney Channel is broadcast on a single feed by MultiChoice, which means the ban will also prohibit all other African viewers, including those in South Africa, from seeing Andi Mack.
The company has, however, since claimed in a statement "that this show was not scheduled to air on any of the Disney channels on DStv."
The Walt Disney Company Africa also commented to Channel24: "Andi Mack will not be broadcast through DStv, however we are exploring alternative ways to make the series available to its fans in South Africa".
In June, MultiChoice was ordered by the KFCB to block six series on the Nickelodeon and Cartoon Network channels for "promoting the deviant LGBT agenda". The company has also acceded to similar demands from Nigerian censors in the past, banning shows such as the two award-winning transgender reality series I Am Cait and I Am Jazz.
Making matters worse, South Africa's own Film & Publications Board (FBP) is providing support and knowledge to Kenya's censors through an agreement signed in 2016. The FBP has refused to make public the contents of the agreement, despite a PAIA freedom of information request from the Right2Know Campaign.