Finally! Brenda Fassie's amazing life to make it to the big screen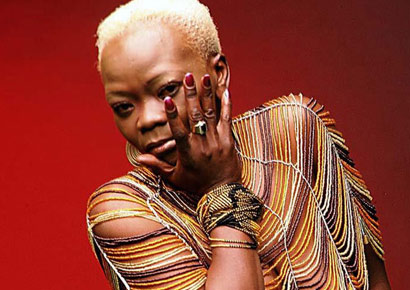 Almost fourteen years after her death, a film about the life of Brenda Fassie, South Africa's most famous LGBT music icon, is finally in the works.
But how true to life will it be – especially when it comes to her sexuality?
The movie will be produced by UK-based production company, Showbizbee and is set to be filmed in Johannesburg and Cape Town in the coming months.
Written and directed by Edward W Shaw, Fassie's son, Bongani, is also involved in the production as executive producer – giving it the family's stamp of approval.
The company said in a statement that Brenda is a "period comedy-drama" that follows a young Brenda Fassie and her journey from Langa, Cape Town to Soweto, Johannesburg, "which catapults her into stardom, becoming South Africa's most iconic entertainer, along with becoming a mother."
It continued: "The screenplay is surprising and precise, a warm human story. It is our good fortune to be working with a great team. We are confident the public will embrace Brenda."
But who will play the outrageous star, known by many South Africans as MaBrr? That remains a mystery. Despite the film going into production next month, Bongani told 702 Radio that the role is yet to be cast.
"We are still going to be finding someone who is gonna match the description, Brenda's characteristics," he explained.
Both Bongani, a music producer, and Showbizbee revealed that an open casting is being planned that will allow anyone to try their luck at playing the superstar.
"Open to all South Africans nationally. This initiative essentially, will give the opportunity for any female across the country to apply for this challenging and honourable role for the movie," said Showbizbee
Meanwhile, social media has gone into a frenzy speculating about who should play the singer. Award-winning actress Brenda Ngxoli seems to be on everyone's lips, and is being backed by the likes of Anele Mdoda.
Singer Skolopad said she was throwing her hat in the ring, telling Times Live: "I am not an actress; I'm a singer but with that being said if there's open auditions, I would give it a shot."
Bongani insisted that, whoever it is, she will be South African: "Let me put it this way, the whole cast is going to be a strictly South African cast," he said.
It appears, however, that Brenda's story will be told from Bongani's perspective. "I've never actually had the chance to tell the story from my side," he said. "The story has never been told through the son's eyes."
Described as a "comedy-drama" it remains to be seen how gritty and revealing the film will be – and how openly it will depict Brenda's relationships with women.
During her career Brenda was dubbed the "Queen of African Pop", the "Madonna of The Townships" or simply "The Black Madonna". She dominated the airwaves with hits like Weekend Special, Black President, Vulindlela and Too Late For Mama.
Her private life also made the headlines thanks to her partying and – at the time, scandalous – same-sex relationships. Brenda became an LGBT icon and spoke openly about being lesbian in an interview with Mambaonline in 2003.
She died tragically young at 39 years of age on 9 May 2004, following an asthma attack and a cocaine overdose.