Uganda's Speaker of Parliament blasts efforts to protect LGBT refugees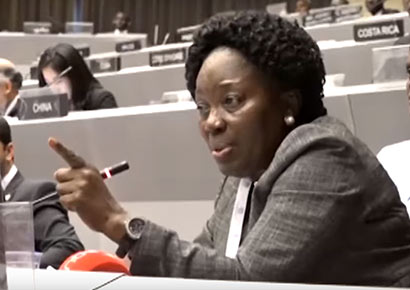 Rebecca Kadaga, Uganda's notoriously homophobic Speaker of Parliament, has threatened a walk-out in Geneva over attempts to protect the human rights of LGBT people.
Kadaga, who was a vocal supporter of her country's anti-homosexuality law, was full of fury at the 138th Inter-Parliamentary Union (IPU) Assembly this week.
She attacked efforts by some nations to pass an amendment to include LGBT people in a declaration on migrants and refugees. Kadaga accused European nations of trying to sneak in the amendment at the last minute.
Wagging her finger, she lashed out at the president of the IPU in front of delegates from around the world.
"We told you that if you insist, we are withdrawing," she said. "So if you are insisting on smuggling this issue, the Ugandan delegation… shall withdraw from the IPU."
Kadaga continued: "In St Petersburg [where the previous assembly was held last year] this subject came up and we said we do not want a divisive issue to come to the plenary. We told you that this issue that you want to bring has broken the Anglican Church."
Kadaga was referring to the splintering of the global Anglican Church, in part driven by Ugandan clergy, over the increasing acceptance of homosexuality and same-sex relationships.
The IPU is an organisation made up of national parliaments from around the world that aims to "protect and build global democracy through political dialogue and concrete action".
Ironically, Kadaga told delegates that she was not even prepared to debate the protection of LGBT people. "Now you are playing an issue that is going to divide us. This matter should not come up for discussion," she insisted.
Kadaga's rant was depicted in the Ugandan and regional media as a rejection by African and Asian delegates of European attempts to impose "the vice" of homosexuality on their countries.
Activist Edwin Sesange, of the African Equality Foundation, accused Kadaga of being a hypocrite by not accepting "that the west introduced homophobia not homosexuality to Africa and Asia".
"Hon Kadaga and others should use their influence to promote the African values of togetherness (Ubuntu), tolerance, respect for others and non discrimination instead of defending colonial sodomy laws which preach the contrary to those African values," he told Mambaonline.
Sesange appealed to people to sign a historic petition demanding LGBT equality in the Commonwealth, of which Uganda is a member.
Kadaga was one of the most powerful champions of Uganda's 2013 Anti Homosexuality Act. She famously described the passage of the oppressive law as a "Christmas present" to Ugandans. The law was later annulled by the country's Constitutional Court over a technicality.
In 2014, Kadaga claimed that computers and books donated to schools in Uganda were installed with software and literature to "recruit" homosexuals.