Death threats after world's first refugee camp Pride event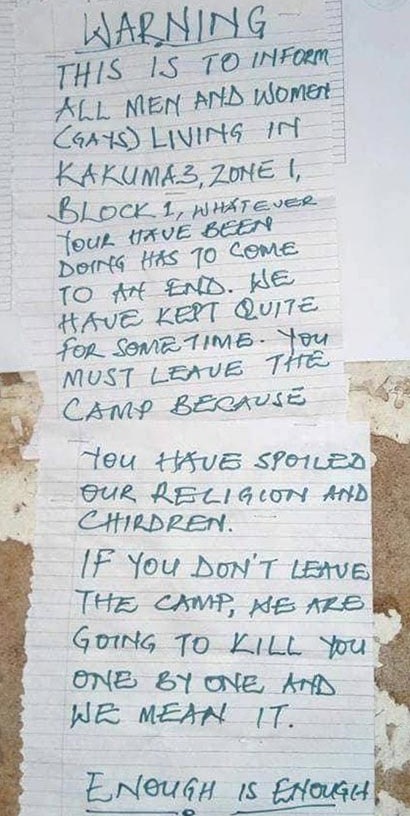 Members of the LGBT community in Kakuma, Kenya, who held the world's first Pride parade in a refugee camp, have been threatened with death if they don't leave.
"Wraning. This is to inform all men and women (gays) living in Kakuma…" a note posted on one of the camp's noticeboards reads. "Whatever you have been doing has to come to an end. You must leave the camp because you have spoiled our religion and children."
The world's third largest refugee camp saw about 200 people taking part in the pride event on June 16. The event was also attended by Kenyan officials and representatives from the United Nations.
"If you don't leave the camp, we are going to kill you one by one and we mean it! Enough is enough," the note states.
According to Gay Star News, Mbazira Moses, the event's organiser, said those who attended the parade were now living in fear. "This letter has left us in fear, desperate, and indoors with anticipations of violence at any time any day," he said.
Some LGBT community members reportedly did not want to go to work after the event, and tried to escape to Nairobi until the situation became calmer at the camp.
Moses said he had received threats and had to deal with homophobia leading up to the event.
During the pride itself, a group of violent refugees yelled at the participants, spat on them and threw dirt on transgender individuals. Despite security, a lesbian and a trans woman were later physically attacked, sustaining injuries.
Moses is also under financial pressure because he is now in debt after the Pride celebrations ended up being bigger than expected. He is desperately trying to raise 12 000 Kenyan shillings (R1,600 / US $120) to cover the costs of the event.
Those who are interesting in making donations can find more information on the Refugee Flag Kakuma Facebook page.