Bianca Del Rio responds to outrage over her rape 'joke' at Montreal Pride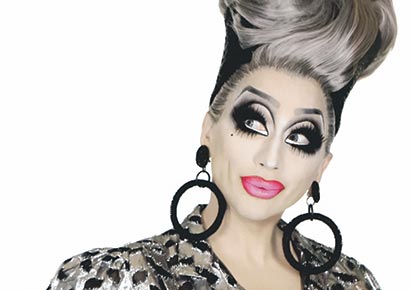 Fresh from her tour of South Africa, drag star Bianca Del Rio is under intense fire for 'joking' about a RuPaul's Drag Race contestant's rape.
A season six winner herself, Del Rio made the comment about the latest series of the show at a Montreal Pride performance last week.
"Seriously, I don't even want to talk about season 10 because every fucking bitch cried every fucking episode. Did you see that? Every episode," she said. Del Rio then suggested that contestant Blair St Clair wanted sympathy when she revealed that she'd been raped while in college.
"…and then you've got the other bitch: 'I was raped!'" exclaimed the entertainer. As the crowd starts booing, Del Rio said: "No, fuck you! You notice she wasn't raped until she was in the bottom two? Think about that, bitch – that's fucking strategy."
Taking things further over the edge, she went on to tell the increasingly disapproving audience: "Rape is funny if you haven't had it. And if you weren't raped, remember this; you're ugly!"
Video footage of Del Rio making the comments at the Drag Superstars show led to a flood of outrage on social media. Montreal Pride issued a statement on Friday to "severely disassociate" itself from the comments.
"The approach of certain sensitive themes, presented in the form of so-called jokes, in no way reflects the policies of our organization and we apologize to anyone who has experienced discomfort due to these events," said the organisers.
Del Rio herself stayed quiet on the matter until Tuesday, when she posted a comment on Instagram, pulled from an interview she did with Hornet in the wake of the controversy.
"Look, my point was everyone was crying on the last season of Drag Race to win over the judges and 'save yourself from elimination.'" she said. "I wasn't questioning the validity of anyone's personal struggles, but bringing it up right before you 'lip sync for your life' was strategic … in my opinion."
Del Rio added: "Call it political correctness, social justice or whatever else. Bottom line is there will always be people who don't agree with you. That's life. I'm not everyone's cup of tea. That's why there's coffee."
Without mentioning her name, Blair St. Clair responded to Del Rio via social media, tweeting: "In the U.S. someone is sexually assaulted every 2 minutes, but people persist in thinking that making rape or sexual assault jokes is 'comedy.' It is not. Rape jokes contribute to rape culture."
Performed by 43-year-old Roy Haylock, Del Rio gained international prominence after winning RuPaul's Drag Race in 2014 and is known for her 'no holds barred' style of comedy. She recently told Mambaonline that she doesn't care about criticism on social media. "Waste your time writing something hateful about me, I don't give a shit. I don't give a fuck, I don't care. It's someone's opinion and I don't really care."
In the U.S. someone is sexually assaulted every 2 minutes, but people persist in thinking that making rape or sexual assault jokes is "comedy." It is not. Rape jokes contribute to rape culture.

— Blair St. Clair (@BlairStClair) August 18, 2018