Home Affairs ignores court order to respond to lesbian couple's visa appeal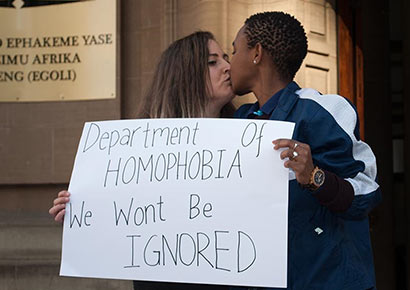 The Department of Home Affairs is flouting the rule of law after it ignored a court order granted to a married same-sex couple who wish to legally live together in South Africa.
The couple, Wendy Kessman and Nomfundo Ngidi, want Home Affairs to respond to their application for a spousal visa for Kessman, who is from the United States.
Mambaonline has previously reported how Home Affairs repeatedly denied the couple's application until they submitted a final appeal against the rejection in January this year. More than seven months later, the department has simply not responded.
Last month, the South Gauteng High Court granted Kessman and Ngidi a court order instructing Home Affairs to give them an answer in writing to their appeal within 10 working days. The deadline for the response was on August 17, however, the couple says that the Home Affairs director general, who was served with the court order, has still not reacted to their appeal.
"They haven't given us any explanation. We haven't heard anything from them. They are now in contempt of court," Kessman told Mambaonline on Thursday.
The couple, who married in January 2017 and first applied for a spousal visa a month later, believe that Home Affairs has violated the law. "No one at Home Affairs has been responsive," the couple said. "There are [only] so many emails and calls we can send out and make," an exasperated Kessman added.
The couple have consulted with the Department of Justice in an attempt to get Home Affairs to respond to their appeal. They are now also considering filing an application for Home Affairs to be formally ruled in contempt of court.
Kessman said she has been struggling to make ends meet without the spousal visa. She cannot work or study in the country without one.
In May, the couple wrote a desperate open letter to Home Affairs Minister Malusi Gigaba. The letter, which was published on Mambaonline, pleaded with the minister to grant the couple "…the same dignity and rights as any other family afforded to them by the South African Constitution." Neither the minister nor his department responded.
The Department of Home Affairs has repeatedly made headlines over the years thanks to accusations that it has discriminated against members of the LGBT+ community. This includes refusing to marry same-sex couples at some branches and denying or delaying applications by transgender people to change their sex markers.
Mambaonline reached out to the Home Affairs department but its spokesperson failed to respond to our questions by the time of publication.