Why is Home Affairs trying to break up this married same-sex couple?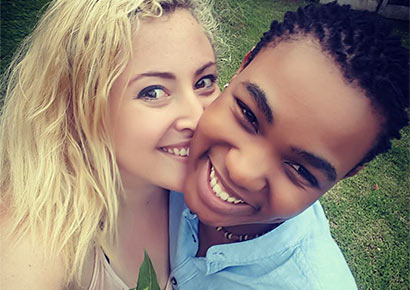 A married binational same-sex couple face being separated because the Department of Home Affairs refuses to acknowledge that they are entitled to live together.
American Wendy Kessman and South African Nomfundo Ngidi have been in a relationship since 2014. They met and fell in love in Swaziland while Kessman was an HIV Education Peace Corps volunteer.
They at first maintained a long distance relationship but in August 2016 they finally moved in together in Pietermaritzburg. The happy couple then tied the knot in January 2017.
Ngidi works for an aluminium supplier and exporter and is completing her honours in accounting, while Kessman has been accepted to begin her Ph.D. at the University of KwaZulu-Natal, as soon as her visa allows.
With same-sex marriage being legal since 2006, the newlyweds assumed that the process of applying for Kessman to stay in the country as Ngidi's legal spouse would be a formality.
Instead it's turned into a costly and frustrating nightmare of incompetence, indifference and alleged homophobia.
"We have spent tens of thousands on this process, lost four job offers, been kept from enrolling in school, had our freedom of movement restricted, and have endured significant emotional distress at the hands of Home Affairs, all to stay together as a couple," said Kessman.
Ngidi added: "In our relationship we are happy and excited to be together but there is always that stress – we cannot relax and be happy. We always are worried, with this in the back of our head; the possibility of her having to leave."
Kessman first submitted her paperwork on 2 February 2017 in Durban to change her visitor's visa to a spousal visa. To their shock, the application was rejected because Home Affairs said that Kessman could not apply for the visa while in the country.
Kessman appealed the decision and pointed out that a January 2016 Western Cape High Court ruling had confirmed that a spouse of a South African citizen can indeed apply for a visa while residing in the country.
"We simply want to be together…"
After waiting for an agonising 40 weeks – instead of the 8 to 10 weeks that it should take – the couple were told on 17 December 2017 that Kessman's appeal for a "study visa" had been rejected.
"We never applied for a study visa," said an exasperated Ngidi. "It has always been for a spousal visa. This never changed. So it added to the confusion and frustration."
Kessman has hired a lawyer and written and pleaded with Home Affairs officials for assistance but has consistently been stonewalled or ignored. She even wrote directly to the Deputy Minister of Home Affairs, Fatima Chohan, on 16 November 2017.
"My spouse and I are upstanding citizens who have worked hard to further our careers to better our families and community," Kessman told the Deputy Minister.
"We have submitted all necessary paperwork and done everything to go about this process the right and lawful way. We simply want to be together, take advantage of career opportunities, and live our lives to the fullest. This period of uncertainty has been heartbreaking and we pleading for a swift resolution. We kindly request your assistance in any way possible."
To date, Deputy Minister Chohan has not replied to Kessman's letter.
Earlier this month, the couple filed their last possible appeal to secure a spousal visa. If this final appeal is not successful they will have to take their case to the High Court or Kessman will have to leave the country.
Kessman is convinced that homophobia has played a part in the ordeal and said that, "we would not be going through this if we were a heterosexual couple".
Ngidi explained: "After a lifetime of dealing with it we know what discrimination feels like. We believe it has been a combination of homophobia and negligence."
As an example, Ngidi told Mambaonline that when the couple presented their civil union certificate to VFS, the company that processes visa applications for Home Affairs, the official didn't recognise the document.
"The VFS official kept on asking for our marriage certificate, not the piece of paper we were handing her. We had to explain that due to us being a same-sex couple that is our marriage certificate – a civil union certificate."
The experience has left Ngidi despondent and disappointed about the status of same-sex couples in South Africa.
"They say we have equality and the right to be married but our marriage is not viewed in the same light. It is as if our marriage is invalid in the eyes of Home Affairs. The constitutional laws I was so proud of, I no longer am as I started looking at it from an implementation rather than what's written down on paper viewpoint."
Ngidi said she'd be "devastated" if her wife was forced to leave South Africa. "I don't know if I could live without her anymore. Obviously I would move with her. If she can't live here, we'll try the States, but we don't know anything with Trump. We'll have to move from fighting here to fighting there."
She added: "If the States doesn't work out, who knows; we'll have to move to some random island that will take us both."
Home Affairs has repeatedly come under fire from activists for its discriminatory attitudes and failure to equally serve members of the LGBTI community. This includes officials refusing to marry same-sex couples and the department delaying or rejecting applications to change transgender individuals' gender markers.
Mambaonline has reached out to the Department of Home Affairs for a response.