Cape Town Pride announces theme for 2019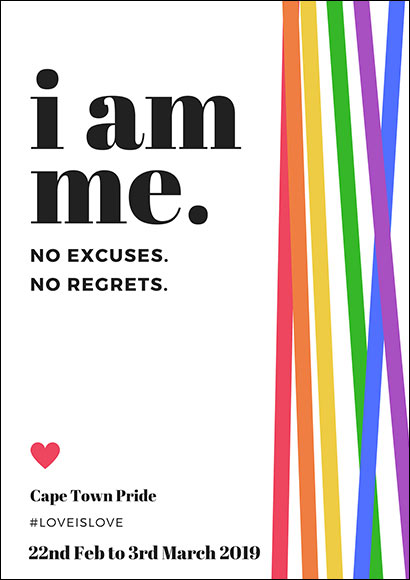 The organisers of Cape Town Pride have revealed the theme for next year's event, taking place from 22 February to 3 March 2019.
The theme, "I AM ME – no excuses, no regrets," aims to make 2019's Cape Town Pride experience more personal, said OUTReach Africa, the non-profit organisation that produces the annual LGBTQ+ festival.
"Everyone experiences Pride a little bit differently – and we wouldn't want it any other way because that's precisely what makes our community tick," explained Matthew Van As, Festival Director of Cape Town Pride. "I AM ME is a deeply personal invitation for self-expression that, we hope, will empower members of the LGBTQ+ community to embrace, embody, and express what Pride truly means to them in the rawest, most authentic ways possible."
To come up with the 2019 theme, the OUTReach Africa team looked into a somewhat unexpected source of inspiration: real-life moments from past Cape Town Pride celebrations.
"One day we were just looking through a bunch of photos from past years, and it quickly became clear that there was an incredible story right there in front of our eyes, one that captured the truest spirit of Pride in all its beautiful, vibrant, and ever-so-colorful simplicity," said Van As.
Cape Town Pride sees I AM ME as more than just a theme, he continued. "It's a bigger story that will permeate every element of this year's Pride festivities – from the Festival to the Parade to the many week-long community events that Cape Town Pride is busy planning."
He believes that these events, which bring thousands of people to the streets and businesses of Cape Town and beyond, celebrate the heritage and diversity of the LGBTQ+ community and its impact on contemporary culture and society.
"For us this year, It was important to tap into our values and remind the LGBTQ+ community that our sole objective, as OUTReach Africa, is to ensure they have the most amazing Cape Town Pride experience possible," said Thomas Patterson, OUTReach Africa Director.
"Cape Town Pride isn't Cape Town Pride without the marvelous people who make up our uniquely diverse community. 'I AM ME' is a testament to that," he added.
The organisers recently sent an email to a variety of community groups and organisations in the region urging them to play a stronger role in Cape Town Pride.
"In the past the engagement, from the side of the community groups/NPO's/NGO's, has been extremely poor and we wish to engage more thoroughly with the community that we represent," said the OUTReach team in an email. If your organisation would like to get involved, please contact community@capetownpride.org before 1 November.
Cape Town Pride will take place between the 22nd of February and the 3rd of March 2019. The Parade and Mardi Gras will happen on the 2nd of March 2019. For updates keep an eye on the event's Facebook page or visit the website.