Gay musical, Kanarie, wins top Afrikaans film award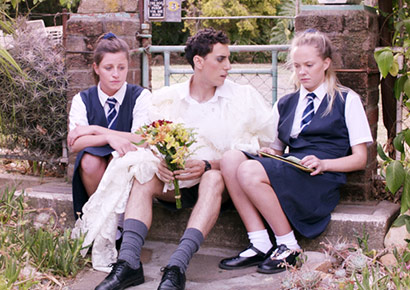 Kanarie (Canary), an Afrikaans gay coming-of-age musical drama set in apartheid South Africa, has won the top prize at the kykNET Silwerskerm Film Festival.
The movie, produced by Marche Media, was awarded Best Feature Film at a ceremony at the Bay Hotel in Cape Town on Saturday night.
Kanarie tells the story of 18-year-old Johan Niemand (Schalk Bezuidenhout), who is called up for military service in 1985. He auditions and is accepted to the South African Defence Force Choir, called the 'Canaries'.
When Johan discovers that he has growing feelings for a fellow choir member, he begins to question everything about himself and his world; his religion, patriotism, sexuality and the realities and truth of Apartheid South Africa.
The film won a number of other awards at the festival, including Best Supporting Actor, for Germandt Geldenhuys, and Best Director, for Christiaan Olwagen. It was also honoured in the categories of Best Production Design (Rocco Pool) and Best Editing (Eva Du Preez).
Kanarie was nominated, but did not win, for Best Screenplay (Christiaan Olwagen and Charl-Johan Lingenfelder) and Best Actor (Schalk Bezuidenhout).
"It's story that could get people hot under the collar but I think it's a very important story that needed to be told," said Olwagen after receiving his award. "It has to do with unresolved trauma, a very complex part of our history. I'm very grateful that I was awarded this prize tonight."
Kanarie first debuted overseas, screening at the INside OUT Toronto LGBT Film Festival and OutFest in Los Angeles, where it received positive reviews and a standing ovation.
It features a host of cameo roles played by some big names in the South African TV and film industry. These include Anna-Mart van der Merwe, Dawid Minnaar, Tinarie van Wyk-Loots, Johan and Lida Botha, Albert Maritz, Martelize Kolver and many more.
Kanarie will be released in South African cinemas on 19 October.