Finally, justice for Lerato Moloi as her killer is sentenced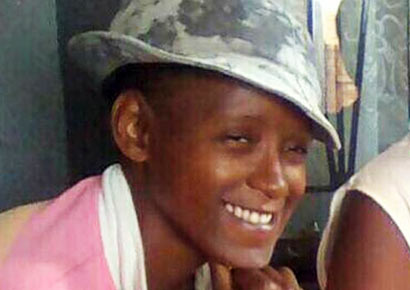 A 40-year-old man has been found guilty and sentenced for the horror murder and rape of lesbian woman Lerato Moloi earlier this year.
After numerous delays in the trial, Petroos Tsotang Mokhgethi received two life sentences, one for each charge, at the Palmridge Magistrates Court on Friday. He will serve the two sentences concurrently.
The 27-year-old Moloi was killed in Naledi Ext, Soweto in May. She was raped, stabbed and stoned with large rocks in what activists called an LGBTQ hate crime.
Lerato Phalakatshela, Hate Crime Manager at OUT and spokesperson for the Love Not Hate campaign, welcomed the sentence.
"We are thrilled that the judge gave a harsh sentence to the perpetrator," he said. "This will not bring back Lerato Moloi, however it will teach a lesson to other people who abuse and discriminate against people based on their sexual orientation and gender identity."
Phalakatshela also applauded both the prosecution and the judge for mentioning and taking "the sexual orientation of the deceased into consideration during the case." He added that, "We hope that the family can finally get some closure."
A second man who was arrested in connection with the murder was earlier released due to lack of evidence. It's understood that Moloi was friendly with Mokhgethi and they were drinking friends.
Moloi was reportedly killed just days before starting a new job. When she left her home on the night of her murder to socialise at a nearby tavern, she promised her aunt that she'd buy her a Mother's Day gift when she got her first pay cheque. It was a promise she never had the opportunity to keep.
Pictures of Moloi's shattered body were shared widely on social media, depriving her further of dignity and humanity after her death.
Last week, activists monitoring the case were outraged when they and Moloi's family arrived for the start of the trial at the Johannesburg High Court only to discover that it had been moved, without notice, to the Palm Ridge Magistrates Court on the East Rand. They accused the Department of Justice and Constitutional Development's Provincial Task Team (PTT) of not priorising the case and of not following up on the trial.