Jack Parow slammed for using homophobia to sell his brandy
Afrikaans rapper Jack Parow seems to believe that using juvenile and hurtful homophobic "humour" is a clever strategy to promote his self-labeled brandy.
On Tuesday, Parow (born Zander Tyler) posted a meme on his Twitter account that apparently aimed to prove how edgy he and his "Parow Brandy" are. Instead, it had the effect of suggesting that he's really just an ass.
"Fokkit. This needs no caption," he wrote alongside the image which features a picture of the Jonas Brothers accompanied by the description, "Mofiie" (an Afrikaans slur for gay). Below that, there's a photo of bottles of his brandy next to the text, "Die Manne" ("the men" in Afrikaans).
It's unlikely that Parow wasn't aware that this would cause a stir, and that's probably exactly why he did it. After all, we didn't know he even had a brandy, but now we do.
Twitter didn't take well to the post, with many calling out the 36-year-old star for his casual homophobia and for perpetuating toxic masculine stereotypes.
"@JackParow stop using cheap tactics to sell your crap alcohol! Idiot," tweeted Jarred Doyle.
Taahira Kimmie, added: "Wow @JackParow you really are homophobic. As if there isn't enough hate in the world, you're perpetuating it and making it even more unsafe for the LGBTQI+ community with your ignorance and hate. Do better man."
Thulane Hadebe decided to hit Parow where it might hurt most – his pocket, tweeting: "@MonsterGaming @PUMASouthAfrica @PlayStation_SA Is this kind of hate speech and homophobia indicative of your brand? Is @JackParow the kind of homophobe you want representing your brand?"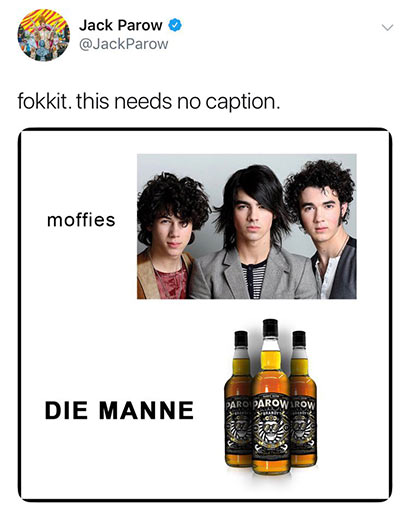 The post has since been deleted and Parow hasn't yet commented on the furore.
It's not the first time he's been accused of homophobia. In 2016, he came under fire for suggesting that gay people aren't very good at sport.
Along with a video that appeared to show an Australian cricketer groping a teammate as they stood listening to the national anthem, he tweeted that Australia had lost the one-day series to South Africa because "one of their players was batting for the other team…"
Parow launched his Parow Brandy in 2017, stating that he had "made a brandy for everyone." Just clearly not for the "moffies" though.
Wow @JackParow you really are homophobic. As if there isn't enough hate in the world, you're perpetuating it and making it even more unsafe for the LGBTQI+ community with your ignorance and hate. Do better man. pic.twitter.com/vT8kPPfY7B

— Taahira Kimmie (@taahira_k) December 18, 2018
. @JackParow stop using cheap tactics to sell your crap alcohol! Idiot pic.twitter.com/T5AS3JZtNW

— jarred doyle (@JarredLove13) December 18, 2018
@MonsterGaming @PUMASouthAfrica @PlayStation_SA Is this kind of hate speech and homophobia indicative of your brand? Is @JackParow the kind of homophobe you want representing your brand? pic.twitter.com/aDgbuj8o4O

— Thulane Hadebe (@_TOOLZ_) December 18, 2018
WHATS GOOD!!! @JackParow !!! I am completely offended!! ??????

2018 is ending and we still have homophobic people!!!

What is your intention with your tweet below? What is a moffie?

JACK PARROW YOU'RE CANCELLED! pic.twitter.com/c6qjyiBegT

— Lasizwe (@lasizwe) December 18, 2018