Cape Town Pride 2019 packed to capacity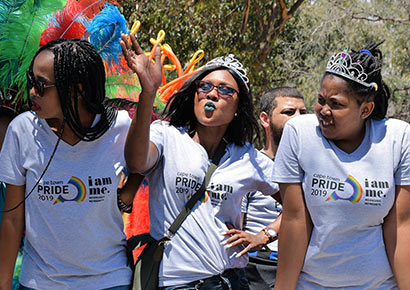 With thousands attending the annual Cape Town Pride 2019 parade and mardi gras, the venue was packed to capacity on Saturday.
Cape Town Pride has had its fair share of controversy over the years, with many accusing it of not being an inclusive event. Last year specifically the accusation made headlines, as organisations protested by laying down in the road and effectively blocked the march with a "protest within a protest".
According to organiser Matthew van As, every effort was made this year to ensure that the event would be as inclusive as possible by consulting with all organisations. And it certainly paid off, as a massive crowd of around 10,000 people, made up of all the rainbow colours that are LGBTQ+ South Africans (and some international visitors too), flocked to the event held at Reddam Field in Greenpoint.
Cape Town Pride is a week long affair and it all started with Pink Parties at various participating venues. The first Pride Lifestyle Conference was held to poor attendance though, and it is here that much work needs to be done. Speakers like Dr Anastacia Thompson, Anova Health and others spoke about various issues pertinent to the community, but unfortunately their important information was delivered to a mostly empty room.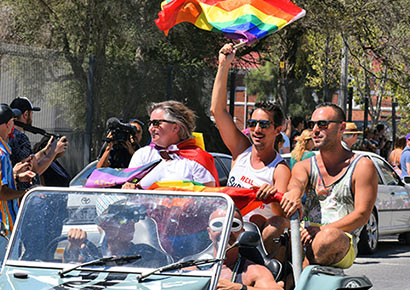 The popular Mr and Miss Cape Town Pride contest attracted a record number of entries and a sell-out crowd. The sought after crowns were snapped up by Maxine Wild and Marvin Leigh Ross. Other events included two book club sessions, where authors Siya Khumalo, Chaise Rhys, Pieter Odendaal, Landa Mabenge, Haji Mohamed Dawjee and Rebecca Davis discussed their work to small appreciative audiences. Their books were also on sale at the two venues. Other events included a poetry evening, an event where faith communities united against discrimination (held at the Pride Shelter Trust), a Pride Shabbat and a Pride Divas Extravaganza, to name but a few.
A highlight of the week was the performance by RuPaul Drag Race Season 2 winner Morgan McMichaels, supported by locals Ina Propriette and Emogen Moore. This show was very popular and the Zero21 Social Club was overflowing with queers who thoroughly enjoyed the show, especially when Morgan started calling her fellow contestants on her cell phone during the show!
The build-up events sets Cape Town Pride apart from most other Prides in South Africa, as it leads to greater visibility for the main event. As most of these were aimed at smaller niche audiences within the LGBTQ+ community, it is understandable that they did not all attract the numbers the organisers had possibly hoped for, but they were nonetheless a crucial part of a bigger Pride message. One can only hope that audiences will support these more in the future.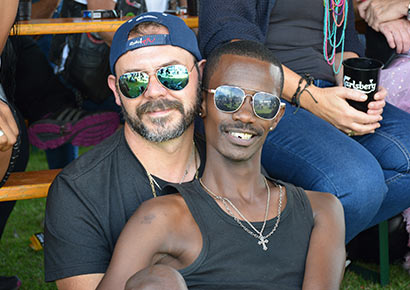 As for the Pride Parade and Mardi Gras on Saturday, it was a huge success. With the theme "I am me", around 3,000 people gathered at the parade's starting point and marched through the streets of Cape Town to the venue. The parade was led by a pipe band and while many people were dressed in their colourful outfits, not many floats participated. Only Crew Bar had a proper float, while two political parties, namely the DA and GOOD, used the opportunity to showcase their LGBTQ+ inclusivity and so canvass for votes in the upcoming election. What was particularly noticeable was the number of foreign tourists who joyfully took part in the parade, and German, Swedish and other languages were heard as the parade made its way to Reddam Field.
The venue for the Mardi Gras was well-appointed, while the process of entering was handled in a professional and slick manner. The venue was well laid out, ensuring an easy flow between the various tents, stage and the small stalls area. The number of food stalls could barely cope with the hungry lunch crowd, resulting in long queues, but a festival atmosphere ensured that nobody cared too much while waiting for their food, chatting to friends, old and new. Both Anova Health and the Desmond Tutu Foundation provided HIV counseling and testing facilities, as has become standard at these type of events.
The music and entertainment line-up proved very popular, with artists like Latheem Gabriel, Jimmy Navis and 4 Tons of Fun entertaining the crowd, interspersed with various DJ's who had the capacity crowd dancing the afternoon away while the alcohol flowed freely from the well-stocked bars.
As mentioned earlier, what was particularly encouraging to see was how diverse the crowd turned out to be. Speaking with some people who had attended the event in previous years, they commended the organisers for achieving this representativity, not only in the entertainment line-up, but more specifically in the make-up of attendees.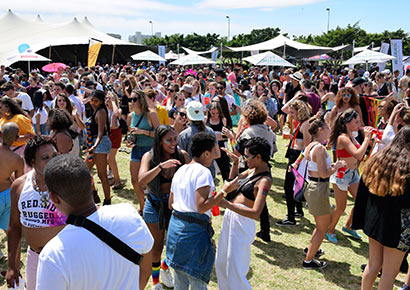 People of all ages, colours, races, nationalities and sexual orientations (including some straight allies) were seen happily mingling and enjoying themselves thoroughly. An atmosphere of joviality ensured that no nasty incidents occurred and the party lasted into the early hours of the evening. The various after-parties lasted well into the early hours of Sunday morning.
Cape Town Pride concluded on Sunday with a Pride church service and a laid-back Village Drinks event in Camps Bay, ending a successful week's event for 2019.
All pictures by Neil Coulson.