Getroud Met Rugby's first same-sex wedding on an Afrikaans soapie
Getroud Met Rugby (Married To Rugby) has broken new ground on South African TV by recently broadcasting what's said to be the first same-sex wedding on an Afrikaans soapie.
The popular kykNET show follows the lives and loves of rugby players and their families. The 13 September episode featured the wedding of Ryno (Adrian Steyn), a professional rugby player, and Thinus (Arno Marais) a lawyer.
The couple married in an emotional scene as Bibi (played by Stephanie Baartman) sang a love song written by Getroud Met Rugby (GMR) head writer, Deon Opperman and composed by his wife, Jeannine Neethling.
The character of Ryno was introduced in January when he joined the Stryders rugby team. Viewers then met Thinus a day later and they were soon established as a couple and got engaged on the show in July.
"We wanted to share a beautiful love story between two people," the show's publicist, Rudo van Heerden, told MambaOnline. He said that GMR's producers and writers brought in the lovebirds to not just tell an entertaining story but also to challenge stereotypes and stigma around homosexuality in the traditionally conservative rugby world.
"We felt that it was time to bring a rugby player to GMR that happened to be gay and in a steady relationship," van Heerden explained. "Although our show and characters are fictional, we try our best to tell stories that people can relate to and show our viewers a bit of what is going on in the world."
"It was the most beautiful moment"
GMR also recently featured scenes that reflect the discrimination that LGBTQ sportspeople face. In the first two weeks after Ryno joined the Stryders team, he became the victim of homophobia in the locker room from some of his teammates.
"The aim was for viewers to feel his pain and rejection although he is a strong man that made peace with himself a long time ago," said Van Heerden. "The story evolved that his haters later came to apologise to him and they became friends in one team."
Soapies have been at the forefront of depicting LGBTQ relationships in South Africa. The first same-sex wedding on a local television show was broadcast in 2006 on Isidingo. In 2017, 7de Laan became, the first Afrikaans show to feature a same-sex kiss.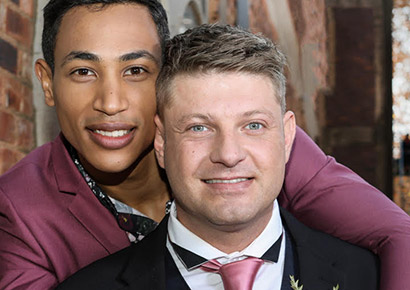 The two actors behind Ryno and Thinus are enthusiastic about their characters and were deeply moved by their fictional nuptials. They even posed for a wedding-style photoshoot.
Steyn remarked that "It was the most beautiful moment between Ryno and Thinus. I had to keep reminding myself that it is not real." Marais added: "The love between the couple is just so incredible. I have never experienced something like it. It felt just like a real wedding."
Van Heerden says the response from viewers to the wedding has been overwhelmingly positive. "There were a few negative comments but compared to the positive ones they are not even 10% of the reactions. Our viewers really love Ryno and Thinus!"
Watch the Getroud Met Rugby same-sex wedding scene below.