7de Laan surprises viewers with its first gay kiss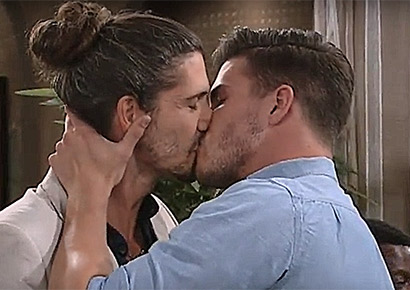 After almost 18 years on air, popular South African soap 7de Laan has finally shown its first same-sex kiss.
The man-on-man smooch between the minor characters of Logan (Simon Tuit) and Divan (Arnu de Villiers) was screened on Thursday night.
In the scene, Logan is meeting with his divorce lawyer in the Oppiekoffie coffee shop. Unexpectedly, Divan, his estranged husband, arrives.
When Logan and Divan agree that they don't want to get divorced after all, they reconcile with a kiss.
Logan then informs his lawyer that his services are no longer needed and the happy couple walk out the coffee shop.
The news that Logan is gay comes as a shock to waitresses Amorey (Kristen Raath) and Petro (Carla van der Merwe) who were vying for the attention of their handsome customer.
The reaction to the gay kiss on 7de Laan's Facebook page has largely been positive. "Yaay for 7de Laan for breaking boundaries! It's high time you needed a gay couple. 🙂 They're such an oulikke couple too. To the homophobes: Welcome to the REAL WORLD. #LOVEWINS," wrote Shaakira Stemmet.
Predictably, some outraged homophobic viewers also lashed out at the kiss and the show. Beverley Witten-de Vos wrote: "I'm so disgusted and disappointed at tonight's episode. Young ones are also watching, how can you confuse such minds? Goodbye to my favourite soapie."
While it was a first for 7de Laan, same-sex kisses are not new to South African television, with soaps having led the way. Isidingo made history when it screened the very first gay male kiss in a local drama, featuring the characters of Steve (Emmanuel Castis) and Len (Chris Beasley).
The girls, however, beat them to it in when actresses Casey B. Dolan and Juliana Venter locked lips in a heavily censored scene in the SABC2 drama series 37 Honey Street, back in 1998.
In 2006, Isidingo also featured the first same-sex wedding on South African television, between Luke (Gary D'Alessandro) and Steve. It was screened five days after gay marriage was legalised in the country.
At times, the public reaction to on-air same-sex affection has not been positive. In 2009, almost 20,000 people joined a Facebook group threatening to boycott Generations because of a kiss between Senzo (Thami Mngqolo) and Jason (Zolisa Xaluva).
In July last year, the series Igazi made waves with a smooch between Phila (Oros Mampofu) and his on-screen boyfriend.