SA's Miss Universe Zozibini Tunzi shuts down a homophobe
South Africa's Zozibini Tunzi, who was recently crowned Miss Universe, has firmly backed the LGBTQ community by taking down a homophobe on social media.
The stunning 26-year-old wowed the world when she was named Miss Universe 2019 to international acclaim on 8 December.
Tunzi, who is also a PR and Technology graduate, has been a proud ambassador for inclusive and diverse beauty and gender standards, but she's also a fierce and unapologetic defender of LGBTQ equality.
In a Twitter post last month, she responded to a tweet from an apparently homophobic follower. While the original offensive post appears to have been deleted or blocked and is no longer visible, Tunzi's reaction definitely is.
"Sir, your health is gonna deteriorate if you're homophobic and following me," she said. "We love the LGBTQIA+ community here in my house. I would advise, because I care for your stress levels and health that you unfollow and block me. Have a blessed day."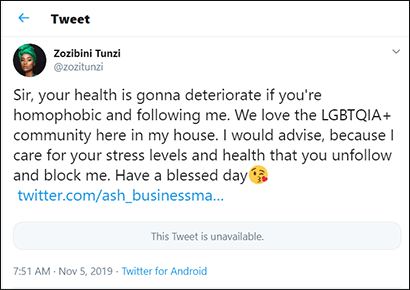 She ended off the tweet with a clearly sarcastic kissing face emoji.
In addition to her beauty and poise, Tunzi also made an impression when answering the question in the final round of Miss Universe: "What is the most important thing we should teach young girls today?"
She replied: "I think the most important thing we should be teaching young girls today is leadership. It's something that has been lacking in young girls and women for a very long time, not because we don't want to but because of what society has labelled women to be. I think we are the most powerful beings in the world and that we should be given every opportunity."
It's clear that Tunzi is not just teaching leadership through her words but also through her admirably affirming actions!
Tunzi is the first black woman to win the Miss Universe title since Leila Lopes was crowned Miss Universe 2011, and the first to do so with her natural hair.
This year's Miss Universe further broke new ground when Swe Zin Htet from Myanmar became the pageant's first openly lesbian contestant.