10 queer romance tips for Valentine's Day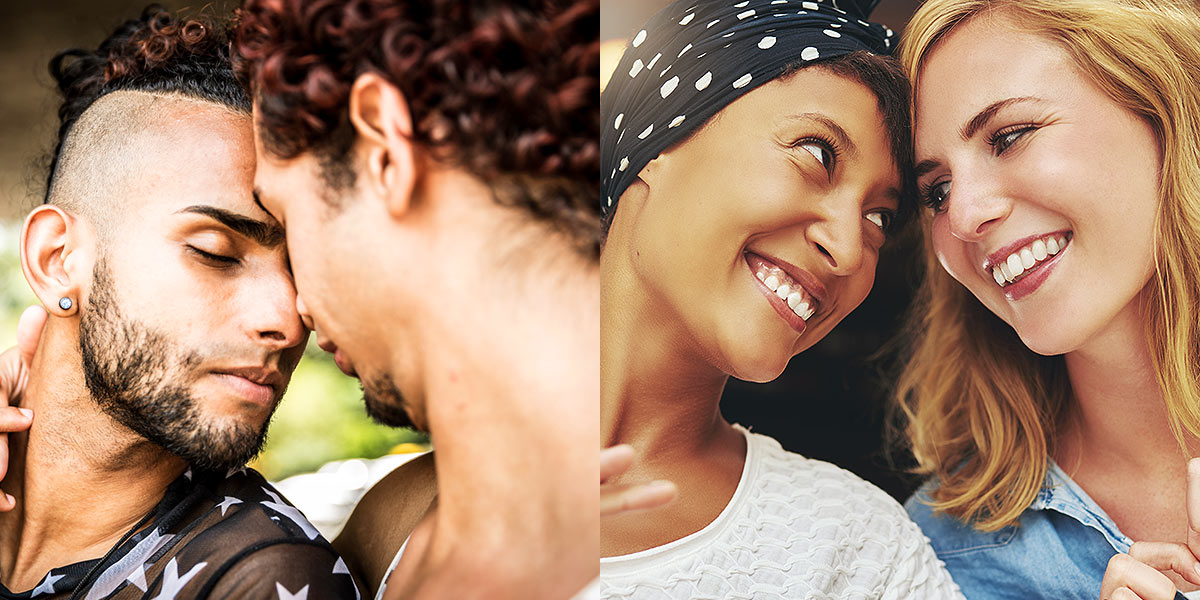 Whether you and your bae are celebrating your very first Valentine's Day together, or whether you've stopped counting, chances are you may be stumped about how to express your unending love and devotion to your partner this year.
Of course, there's nothing wrong with flowers and a nice restaurant, but if you're looking for something a little less traditional, we've got 10 tips to make this Valentine's Day one for the books.
1. Swap the restaurant for an intimate picnic
Look, most restaurants are filled to the brim on Valentine's Day – and a constant murmur that drowns out the sweet nothings you're whispering to your beloved is anything but romantic. Avoid the rush and opt for a picnic – either outdoors, or simply on the living room floor. Include a few aphrodisiacs on the menu for the evening, and the night is your oyster!
2. Spend an evening stargazing
Is there anything more romantic than laying on your back and looking at the stars with that special someone? Set the tone with some wine and a blanket to share, and who knows – the wonders of the heavens may just be the prelude to some fireworks later.
3. Spend the day volunteering for a cause you both care about
Spread the love this Valentine's Day by volunteering your time at an animal shelter, a soup kitchen, or any other place that is near and dear to both of your hearts. Compassion is a very attractive characteristic.
4. Get them a tailored gift
Get them a gift to remember by tailoring it especially for them. Does your girlfriend love tea? A hamper of artisanal teas will be sure keep those affections brewing for months to come. Is your husband a sucker for poetry? Put together an anthology made up of your and his favourite love poems.
5. A rose by any other name
Roses are fine, but you can do better than that. Try an alternative bouquet this Valentine's Day. A bunch of origami roses is thoughtful and unusual, but you can also replace a traditional bouquet with a bonsai or potted plant, or even go for a bouquet made of their favourite sweet treats.
6. Pay attention to the card
Valentine's Day cards remain one of the most enduring sentimental aspects of this holiday, and this is your chance to get creative by making your own and printing it out. Here are a few ideas for heart-warming Valentine's Day cards, or take a gander here if you're looking for something a bit more NSFW.
7. Go to all your favourite places
Plan an itinerary for the day that includes you and your partner's favourite places around town. Going to all the special spots will remind you just why they're special – because you frequent these places with the person you love.
8. Organise a group date
Celebrate Valentine's Day with your closest friends, and take the pressure off of everyone by organising a potluck dinner or an evening out. Sure, it's not as intimate as spending time with your SO alone, but it certainly builds the anticipation for what happens when you get home.
9. Plan an evening dedicated to the pleasures of the flesh
Show your lover just how much you enjoy them physically by dedicating the evening solely to great sex. Set the scene with candles, snacks and a hot bath when they get back from work, and have the lube, toys and outfits at the ready for an evening of marathon lovemaking.
10. Stay home with pizza and a movie
There's a lot of pressure to impress on Valentine's Day, but sometimes the simplest things are the best. Making them feel special needn't break the bank or send you into a spiral of stress. If you don't have time to go all out this year, a simple evening spent on the couch with your boyfriend or girlfriend can be just what you both need to kick back and remember why you fell in love in the first place. Throw in a couple of classic romantic films on the TV and you're really set.