Getting down in lockdown: How to get off online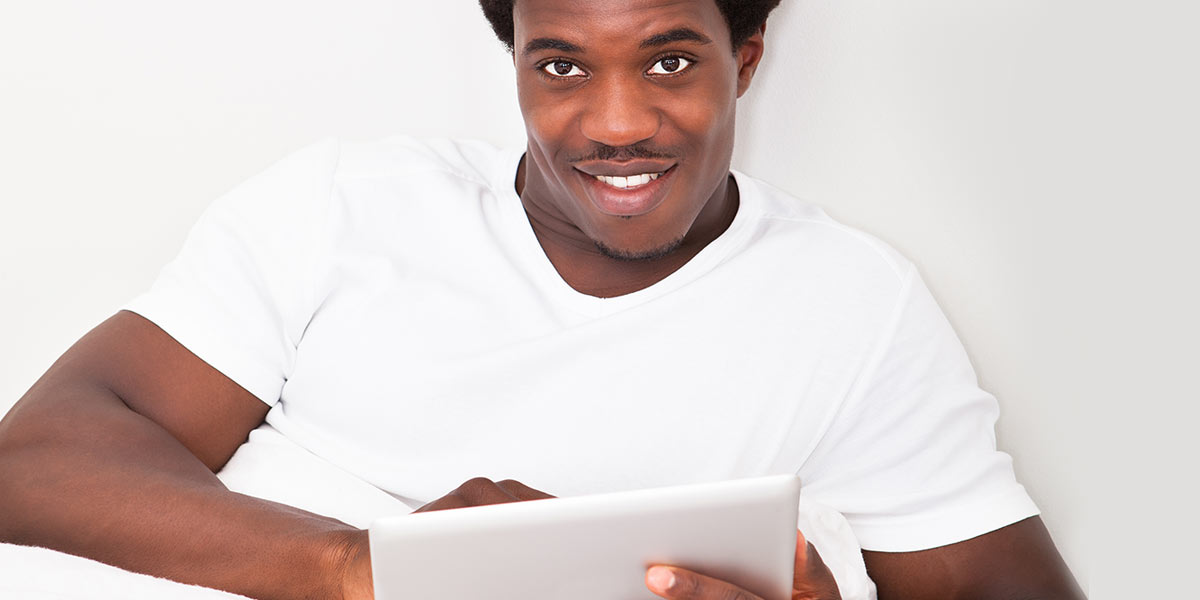 The outbreak of the novel coronavirus has forced South Africans indoors in a lockdown effort to help stop the spread of this respiratory condition. If you're single and staying alone, this strange time in history could prove especially trying – perhaps even more so if you're used to regular hook-ups.
Some level of lockdown and social distancing restrictions are likely to stay in place until the pandemic has subsided in South Africa. Even when we are allowed greater freedom of movement, everyone is still at risk of contracting coronavirus, and the measures to stop its prevention – washing your hands frequently, keeping a distance of at least a metre between yourself and others, avoiding coming into contact with the sputum of people that might be infected – will probably need to be adhered to for as long as Covid-19 is around.
It goes without saying that swapping spit with a stranger isn't the best idea (and effectively illegal) right now. In fact, Engage Men's Health – an organisation that provides sexual health services to men who have sex with men (MSM) has called for MSM to stop having casual sex during this time. So what is a lonely, libidinous lad to do when there's an itch that can't be scratched? Fret not: technology has gifted us with ways to still get our rocks off, even while in self-isolation. Here's how.
Go solo
Not being able to go out and see people in person definitely doesn't mean you can't get off. The world's largest porn site, Pornhub, has decided to do its part in helping people maintain social distancing guidelines by making its premium content free worldwide.
"With nearly one billion people in lockdown across the world because of the coronavirus pandemic, it's important that we lend a hand and provide them with an enjoyable way to pass the time. We hope by expanding our offer of free Pornhub Premium worldwide, people have an extra incentive to stay home and flatten the curve," Vice President of Pornhub, Corey Price said in a press release.
What's not to love about masturbation, anyway? You know exactly how to get yourself there, and a reminder of what turns you on can help to make you a more communicative partner after the lockdown. Think of this as a time to hone your own skills and to find new ways to turn yourself on.
Use your words
If you're the "a-little-less-conversation-a-little-more-action" type, or if you haven't really ever ventured into phone or video sex before, this is a good place to start. Many are hailing the return of proper courting as dating apps have seen a surge in downloads in areas where isolation measures are in place. While you can certainly decide to woo someone with plans of getting to know one another a little better when travel and socialising bans are lifted, you can also use this opportunity to hone your sexting skills.
Make no mistake: good sexting is an art in itself, and charming the pants off someone using only your words isn't as easy as it might seem. Still, eloquently typed messages telling someone exactly what you'd do to them if it wasn't for the lockdown are HOT, and this is a skill you'll be happy to have acquired in the future. Here are some tips to get you started.
Schedule a bedroom meeting
This is one video meeting you don't have to dress up for – in fact; not being dressed up is preferred. While location-based apps like Grindr, Tinder and Scruff were at the height of their popularity before the lockdown came into effect, hooking up via video call is the safest type of sex you can have right now.
And cybersex doesn't have to feel inferior – speaking to Them, one Scruff user said, "Why not have fun from the comfort and safety of your own bed? Don't get me wrong, staying home cooped up with your roommate without an ounce of actual dick is… hard 🙂 But being able to sneak into your room to meet a hot French guy online is fun."
With apps like Zoom, Skype, and messaging apps that also allow video calling, and as apps like Tinder make their Passport feature free to all users, the world is your oyster. Always wanted to "hook up" with an Italian stallion? This is the time to broaden your horizons! (Just be aware that some dodgy people could try and embarrass, out or blackmail you with recorded explicit videos or photos – so be wary and try not to be identifiable in the visuals.)
Like all crises, this one is bound to pass eventually, but until then: stay safe, keep your distance, wash your hands – and explore new ways to get your rocks off from home!