The struggles of lesbian parents using sperm donors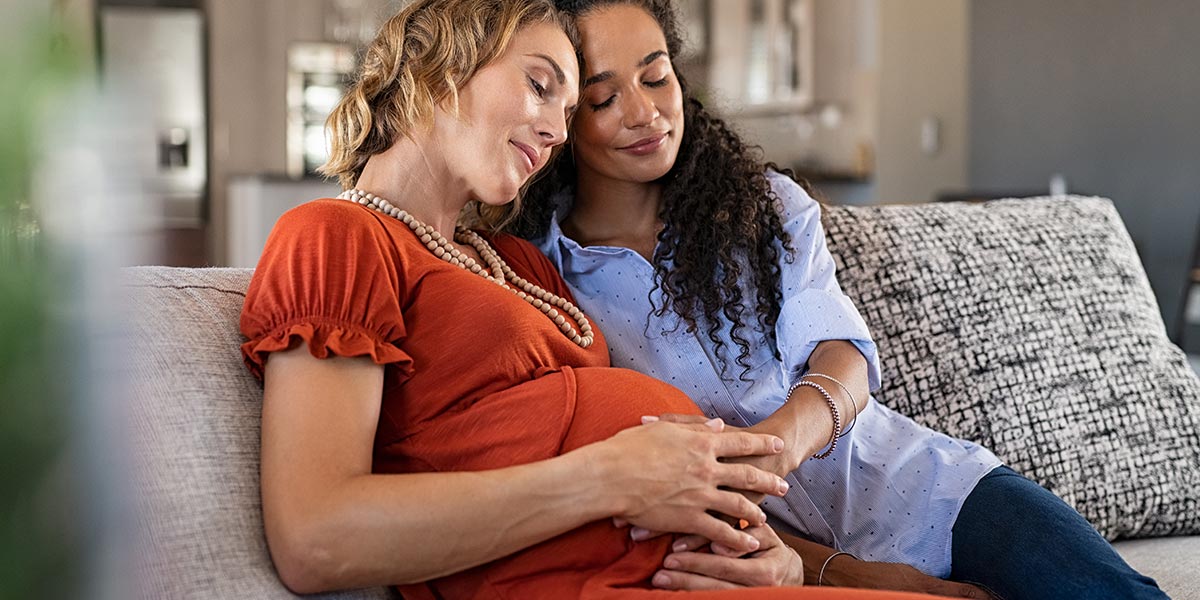 Lesbian parents in South Africa may face legal challenges and expenses not experienced by opposite-sex parents. So is it justified red tape or is it homophobic discrimination?
Any parents planning to have children are acutely aware of the costs that come with expanding the family. However, very few parents ever expect having to incur legal fees simply to be acknowledged as the registered parents of a child upon their birth. 
This was the rude awakening of one same-sex couple, who were subjected to treatment they described as homophobic and discriminatory, upon having to register the birth of their child with Home Affairs.
The couple conceived at home using sperm from a donor they came across on Pride Angel, a website that helps lesbian, gay and infertile couples to find sperm or egg donors to conceive. Couples often follow the route of privately connecting with a known or unknown donor instead of using sperm banks and in vitro fertilisation, which is very costly. In the case of the couple in question, one of the women went for insemination at a gynaecologist twice, before ultimately falling pregnant after a third insemination at home.
After giving birth, the couple ran into their first hurdle when a Home Affairs official wanted to register their child's birth in hospital. The official enquired as to who the father of the child was for registration purposes.
One of the two new mothers, who wish to remain anonymous, described the ordeal to MambaOnline. 
"On the same day when the Home Affairs official came around, she already had all information filled by the nurses. She said she just needed the father's signature, and I jokingly said, I'm the Daddy, and I'll sign. Then she said she couldn't do it, she only has one form, and immediately the mood changed.
"I asked her what she meant. She said for such a registration we would have to go to Home Affairs. I said hell no, asked if she was insane. My wife could barely walk, she had had a C-section, and now we had to go into Home Affairs with a little baby, stand there in queues and risk infections! I went to complain to the hospital."
Homophobia or legislative red tape?
Andrew Martin, Director of Fertility Law, a firm that specialises in the "law relating to assisted reproductive treatment (ART) and artificial fertilisation of persons wishing to start or expand their family through surrogacy, egg/sperm donation or embryo donation", says that in the case of same-sex lesbian parents who use a sperm donor to conceive, there is a lot of legal red tape that prospective parents are often not aware of.
Martin cites the Children's Act, No. 38 of 2005, which specifically excludes any person who is biologically related to a child by reason of only being a gamete (sperm or egg) donor for the purposes of artificial fertilisation from the definition of a "parent". According to Section 40(3) of the Children's Act, no right, responsibility, duty or obligation arises between a child born of a woman as a result of artificial fertilisation and any person whose gametes have been used for such fertilisation.
"It is my opinion that this section is actually drafted from a heterosexual couple's perspective – either the husband can't provide sperm and a sperm donor is used, alternatively the wife can't provide eggs and an egg donor is used. This is because the section states that the child must for all purposes be regarded to be the child of those spouses as if the gamete or gametes of those spouses had been used for such artificial fertilisation. 
"In a same-sex female relationship, it is biologically impossible for the gametes of both spouses to be used, as there must be a male sperm donor involved for fertilisation to occur. As such, it is my opinion that despite the use of the word 'spouse' the intention of the legislature was not to extend parental rights to the non-genetic partner of the biological mother," advises Martin.
In the case of same-sex lesbian couples, legislation confirming that the genetic father of a child is in fact only a gamete donor without parental rights, and that both mothers should obtain parental rights upon the registration of the child, is lacking. This forces lesbian parents to approach the High Court in the jurisdiction where they reside prior to their child's birth to ensure that both parents are holders of parental rights and are recorded as such by Home Affairs when their baby is born.
"I am of the opinion that the legislation does discriminate against same-sex female couples because of the lack of legal certainty afforded by the current legislative provisions and the failure of the provisions to correctly and clearly set out how parental responsibilities and rights are automatically assigned to same-sex female couples," says Martin.
Martin assisted the couple mentioned in this article, who were ultimately able to register their child with both mothers as parents, after getting a letter from their gynaecologist confirming that the baby was conceived via a donor, upon the instruction of a supervisor from Home Affairs to do so. 
However, the couple maintains that they were demeaned, humiliated and discriminated against.
"We expressed that we were not happy that we were asked how our child was conceived, because no straight couple is ever asked how the child was conceived, especially couples who are facing fertility issues."
Not being able to immediately register both mothers as parents turned what should have been a joyous occasion into endless administration, which led to financial pressure. Because they didn't have a birth certificate, they weren't able to add their baby to one of the mother's medical aid, leading to their paediatrician's bill not being paid on time.
What if same-sex lesbian couples do not have the financial resources to pay for legal services?
Martin recommends that female same-sex couples, both married and unmarried, who are planning on using a donor to conceive, should approach the High Court where they reside prior to the child's birth or conception in order to ensure that both mothers are registered as parents, as Home Affairs is not authorised to grant parental responsibilities and rights. The fact that one's name appears on a birth certificate does also not necessarily confirm that one holds parental responsibilities and rights – in lieu of legislation confirming such rights, a court order is the only other avenue for same-sex lesbian parents. This court order is then provided to the Home Affairs official at the time of birth and registration.
Martin advises that couples can also approach the Magistrate's Court and the Children's Court specifically. Fertility Law has successfully brought a number of applications relating to the legislation in question, and endeavour to assist all couples in a cost-effective manner that does not preclude couples without financial means. The application is quick and simple, and doesn't cost tens of thousands of rands.
"My advice is that all couples should seek legal advice so as to confirm, ensure and guarantee that they are the holders of parental rights and are recorded as such on the birth certificate. I advocate incurring a small legal expense prior to conception or birth, versus incurring a much larger legal expense when things go wrong or where there is a need to litigate about parental rights," says Martin.
To find out more about the legal requirements involved with registering the child of a same-sex lesbian couple, contact Fertility Law.