Horror axe attack highlights same-sex domestic violence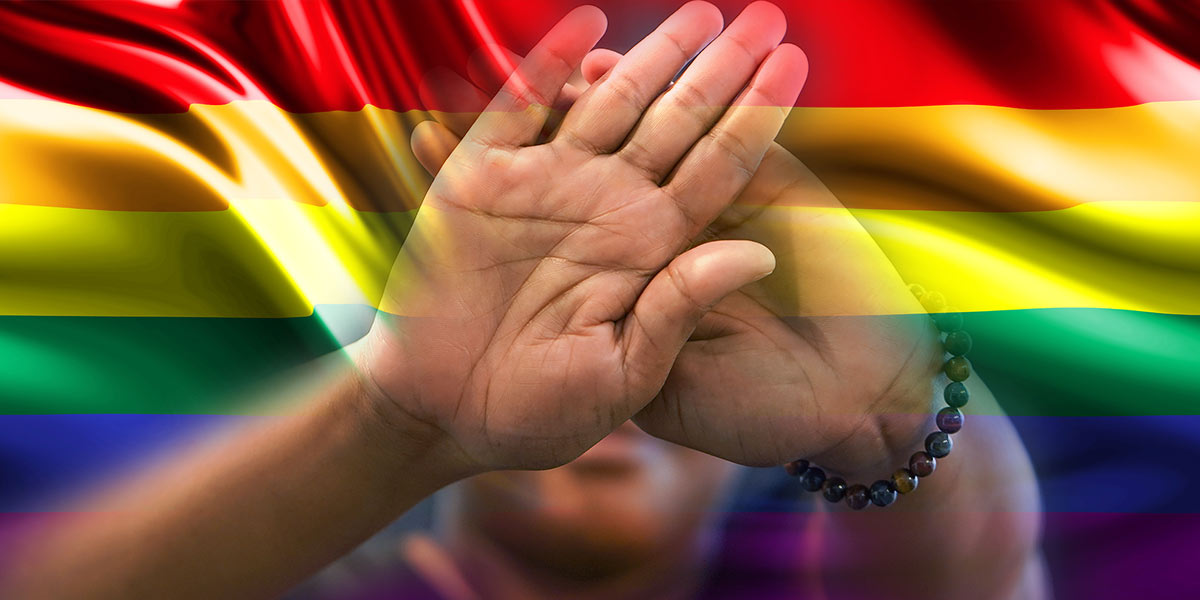 A Limpopo woman who was hacked with an axe by her wife is highlighting the rarely discussed issue of domestic violence in LGBTIQ relationships.
Mpho married her partner of more than five years in December, with all the accompanying excitement and hope for a lifetime of companionship, support and love. Just six months later, the Thohoyandou couple's relationship became a living nightmare.
The woman, who cannot yet be named for legal reasons, is accused of attacking Mpho with an axe, leaving her with severe wounds on her head and a broken hand. It was the final and almost deadly conclusion to their marriage.
While Mpho, 42, has been discharged from the hospital, her wife, 38, was recently denied bail and remains in custody pending her trial for attempted murder.
Mpho tells MambaOnline that the relationship was good "most of the time" but there were occasions when her wife would "out of the blue change her attitude and get angry with me and tell me to pack my things and go."
She would later apologise, profess her love and beg Mpho to come back. While Mpho says that her wife was emotionally abusive for some time, things only recently became violent.
When Mpho couldn't take any more abuse, she secured a protection order against her wife. At the end of June, however, the woman contacted Mpho and begged her to return. When she refused, "she became very angry, telling me that she will kill me because I am her wife and she can't afford to see me with another woman."
That same day, claims Mpho, her wife came to where she was staying and threatened to stab her with a knife. The following day, the woman returned and managed to convince Mpho to let her in.
"I opened the door and without saying anything [she] beat me with a small axe that she was carrying. I fell down unconscious and woke up in the hospital," alleges Mpho. She was left for dead and lying in a pool of blood by her wife who then turned herself in to the police.
While Mpho is now recovering at home, the hairstylist and nail technician is struggling financially as she is unable to work because of her injured hand. "It has also affected me emotionally and mentally. I have spent many days having sleepless nights; I see her stabbing me with a big knife. Now I have to take sleeping pills to sleep."
The Forum for the Empowerment of Women (FEW) has thrown its support behind Mpho and hopes to bring the scourge of domestic violence (also known as intimate partner violence) in LGBTIQ communities into the light.
"Being in a same-sex relationship makes things more difficult…"
"There should be a concerted effort from our community to talk and engage on psychosocial issues that we go through, even in same-sex relationships," said FEW in a statement. Together with Queerwell, it recently hosted a Zoom discussion on the issue.
FEW's Siphokazi Zii Nombande notes that "the [discussion] audience was not comfortable to talk about it, as it seems to be a negative reflection of the LGBTIQ."
"The reality is, we are in human relationships that can be abusive physically, emotionally and financially," she says. "FEW has a programme that started two years ago, which speaks to intimate partner violence, where we are educating our community and helping them to deal with intimate partner violence."
Despite domestic violence being largely invisible in the LGBTIQ community, it's thought that rates of intimate partner violence among queer people may be higher than in the rest of society.
According to a 2017 Triangle Project report, 28% of the lesbian, bisexual and transgender women surveyed said they "had been or were currently in an abusive relationship." This is compared to 17% of women between 18 and 24 in the general population reporting experiencing relationship abuse.
A 2010 US study found that 43.8% of lesbian women and 61.1% of bisexual women have experienced rape, physical abuse, and/or stalking by an intimate partner, compared to 35% of heterosexual women. It also reported that 26% of gay men and 37% of bisexual men have experienced rape, physical abuse, and/or stalking by an intimate partner, compared to 29% of heterosexual men.
What is undeniable is that the impact of the abuse is dramatically worsened for LGBTIQ victims because of heterosexism and queerphobia. This could be when reporting incidents to the police or navigating the health and criminal justice system and only increases the likelihood of victims remaining silent. They may also fear being outed, shamed or ridiculed.
"I think being in a same-sex relationship makes things more difficult," agrees Mpho, who reveals that she was herself subjected to discrimination after the attack. At the hospital, the nurses referred to same-sex relationships as being "things of Satanism". And instead of referring her to counselling to deal with the violence, they suggested that she see a psychologist because of her sexual orientation.
"I think people are not aware, I think they don't understand that it is domestic violence because we are the same gender. People really need education about this," says Mpho. She explains that she decided to go public with her ordeal to "show the LGBTIQ family the danger of staying in an abusive relationship."
"The fact that Mpho is open about the abuse is going to help many LGBTIQ community members," says Nombande. "It is also an opportunity to create awareness about the reality and the impact of intimate partner violence, but also absolve the stigma associated with the silence in the community."
Adds Mpho: "I lived so many years keeping quiet and no one knew about my abuse. It hurts, but I hope I get a chance to tell the whole world my story."
For support, reach out to FEW or one of these LGBTIQ organisations.