We're Queer My Dear is back for Season 2!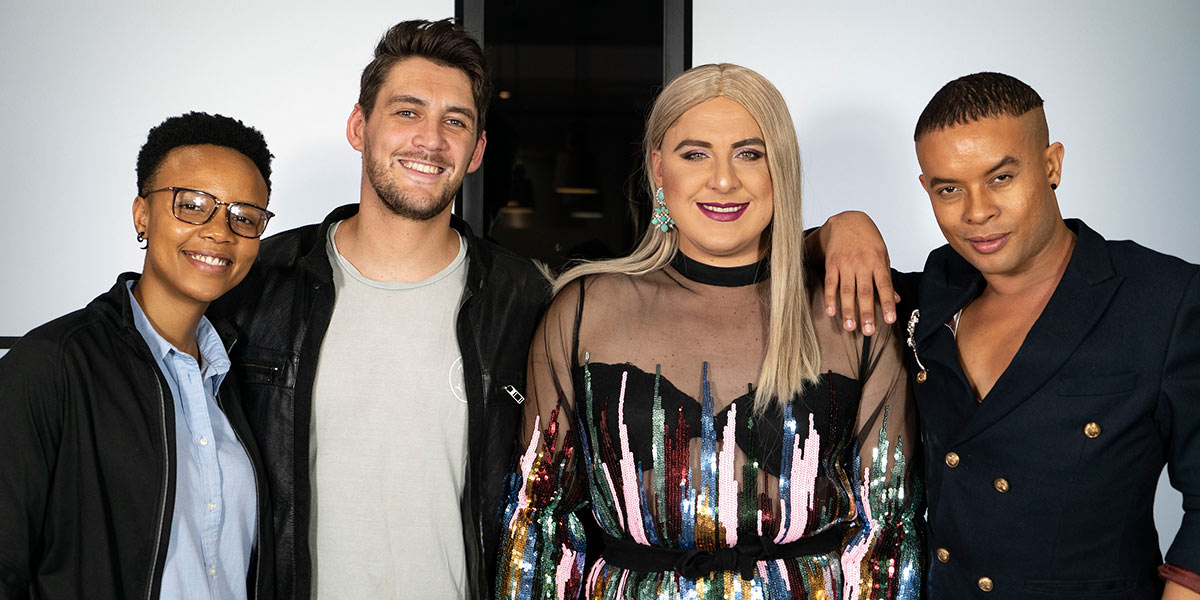 The award-winning LGBTIQA+ online web series WQMD (We're Queer My Dear) is back for its second season after an initial delay due to Covid-19.
This year, starting from 12 October, Shenay, Jaco, Jodi and Tina get more personal, discuss new topics and feature an array of guests giving their advice, opinions and insights.
WQMD, which won Media of the Year at last year's Feather Awards for its 1st season, is an online series created by Shenay O'Brien (producer) and Jennis Williamson (director) in 2019.
The 10-episode WQMD Season 2 is in proud partnership with The Other Foundation – an African trust dedicated to advancing human rights in the Southern Africa, with particular focus on LGBTI individuals.
Consisting of a panel of celebrities, entrepreneurs and social media influencers who all fall within the LGBTIQA+ community, it's a guide to help you understand the issues affecting the community so that you can live your life to the fullest.
In Season 2, the team tackle everyday topics and engage in constructive, educational, uplifting discussions and queries. The topics for the episodes are as follow:
HIV Awareness – Guest: Wade Schraerer (HIV activist)
Coming Out: While Still in School – Guests: Dihan Schoeman (actor) and Johan and Heidi Schoeman (parents)
Homophobia & Internalised Homophobia
LGBTIQA+ Acronyms: Where do I fit it?
LGBTIQA+ Inclusivity and Diversity in the Workspace – Guest: Kyle Smith
Queer Parenting and Adoption – Guests: Jennis Williamson and Gopala Davies (both recently adopted)
Mental Health Awareness – Guests: Rivonia Pillay (Global Shapers Tshwanehub) and James de Villiers (Global Shapers Johannesburghub)
GBV, LGBTIQA+ Hate Crimes – Guests: Nazley Sharif (co-creator of Safe Space RSA, MP)
LGBTIQA+ Representation in the SA Media – Guest: Mond Motadi (South African queer content creator and producer)
Episode 10 will be a recap of Season 2
Mambaonline.com is once again the exclusive media partner for WQMD and will be releasing the episodes on our website and social media platforms weekly from 12 October with the release of Episode 1. Talent-Etc has also joined the initiative as the marketing partner.
"I am beyond excited for Season 2 of WQMD. This year, as per the proverbial saying, we are indeed going bigger, better and bolder," says director Jennis Williamson. "We are ready to shift more perceptions and create an even bigger space for the LGBTIQA+ community to make their voices heard."
Panellist Tina Redman believes that "The need is now more than ever for a safe space to let our voices be heard. Let us break down walls of ignorance, answer those difficult questions people want to ask and are wondering about and shift the paradigms that are sometimes the cause of gender-based violence and LGBTIQ+ hate crimes."
Producer, creator and panellist, Shenay O'Brien adds: "One small pebble can create a massive ripple effect. We have to start normalising conversations, opening about the challenges we have faced, and continue facing. We all have a responsibility to contribute to the change we want to see in South Africa and the world. Make your voice heard, stand up for yourself and others and challenge society. We're here, we're Queer and we're not going anywhere, My Dear!"
This season will also offer collaborations with other LGBTIQA+ organisations/platforms and prize giveaways, including:
– 3-day 2-night stay for 4 people from Forever Resorts Loskopdam in Mpumalanga
– 2 x R2500 beauty aesthetics vouchers from Wellnessthetics in Johannesburg.
All details on how to stand a chance to win these prizes will be available on the WQMD social media platforms during the run of Season 2.
It all kicks off right here on MambaOnline.com from 12 October 2020!