11th Feather Awards a celebration of "proud queer Africans"
Retired Constitutional Court Justice Edwin Cameron was among the honourees at the spectacular 11th annual Feather Awards in Johannesburg on Thursday night.
The ceremony featured electrifying performances, moving acceptance speeches and tributes paid to a range of personalities and institutions. These included activists, performing artists, celebrities, sportspeople, and media organisations that were lauded for flying the LGBTIQ+ flag high or for simply being fabulously inspiring, amusing or scandalous.
The two most notable awards went to Justice Cameron, who received the Simon Nkoli Award, and Namibian activist Linda Magano Baumann, who was honoured with the African Feather of the Year Award.
Cameron, who as a progressive judicial voice and an openly gay and HIV positive role model has helped shape contemporary South Africa, accepted his award with his partner, Nhlanhla Mnisi.
Addressing the cheering crowd, Cameron lauded Simon Nkoli, his late friend and South Africa's most iconic queer campaigner. "Simon laid the groundwork for the constitutional negotiations that led to something really extraordinary; the first country anywhere in the world that included those words 'sexual orientation' in its constitution," said Cameron.
"Simon died of AIDS. I'm here 22 years later after Simon's death, and I feel a humble joy for being able to be here. But we still have people in our country who are dying of shame and silence. Let us recommit ourselves tonight to stopping the shame, to stopping the silence, to stopping the deaths, to getting out a lesson of testing, a lesson of treatment and a lesson of sharing."
Cameron, who was recently named Chancellor of Stellenbosch University, also addressed the oppression of LGBTIQ+ people in much of Africa. "Across the continent, LGBTIQ people are still persecuted, arrested, put in danger of their lives. There's even been talk in Uganda of a new death penalty statute."
He concluded by asserting: "We are Africans, we are proud Africans, we are proud queer Africans! Let us take our struggle throughout our continent and let us recommit ourselves to that."
Baumann, who founded the LGBTIQ human rights organisation Out-Right Namibia, dedicated her award to "all African LGBT activists who work every day to voice, support and create an environment for our fellow brothers, sisters or gender non-conforming persons."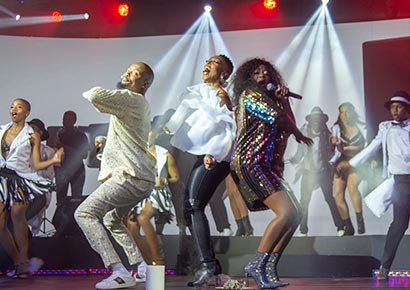 "I know, I believe that one day we shall all live in an Africa which recognises, dignifies and protects all citizens. Don't give up, keep going," Baumann added.
The rest of the winners included fashion supernova Rich Mnisi, who was awarded Hunk of the Year, newlyweds Dineo (Moeketsi) Langa and Solo, who nabbed the Cutest Couple prize, and yummy-mummy Loot Love, who took home the Best Styled individual award.
Banyana Banyana footballer Thembi Kgatlana scooped the Sports Personality of the Year Award, while Twitter favourite Doctor Dr Sindi van Zyl – who has dedicated herself to promoting equal access to health services – was recognised as the Social Media Personality of the Year.
Progressive institutions that have pioneered tolerance and inclusivity also got their rewards at this year's event. The Gauteng Department of Community Safety was recognised as Best LGBTIQ+ Initiative: Public Sector for its LGBTIQ+ Sensitisation Training of Law Enforcement Agencies programme. The University of Johannesburg's LGBTI Soweto Campus Society took the best LGBTIQ+ Student Movement Award, and YouTube series We're Queer My Dear got the Media of the Year Award.
Major Mandisa Mfeka, the South African Air Force's first black woman fighter pilot, was awarded the Role Model of the Year Award, while Metro FM's media personality Bujy and Nando's were jointly awarded Drama Queen of the Year Award for their twitter skirmish.
In a nod to the crucial role that supportive and affirming parenting plays, Felicia Leqela, the mother of actor and content creator Lumko Johnson was presented with the Best Rainbow Parenting Award for her public support for her son.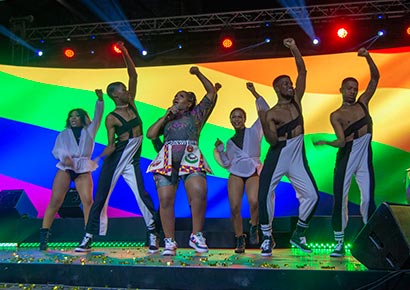 The Feather Awards have become synonymous with outstanding stage performances and 2019's event did not disappoint. The Mzansi Gay Choir delivered their trademark rousing vocals, and Busiswa brought the heat to the stage. Langa Mavuso and Berita gave a moving tribute to queer love, and Moonchild and Nokwazi brought the house down with their finale number.
"This year's event demonstrated the importance of establishing and maintaining a voice that represents the LGBTIQ+ community," said co-founder of the Feathers, Thami Kotlolo. "We are a large and diverse community, and the work that The Feather Awards does is part of the dialogue on issues affecting our community. Tonight, we celebrated in a lighthearted way, while recognising the important work that's being done. Eleven years on, we're still standing strong."