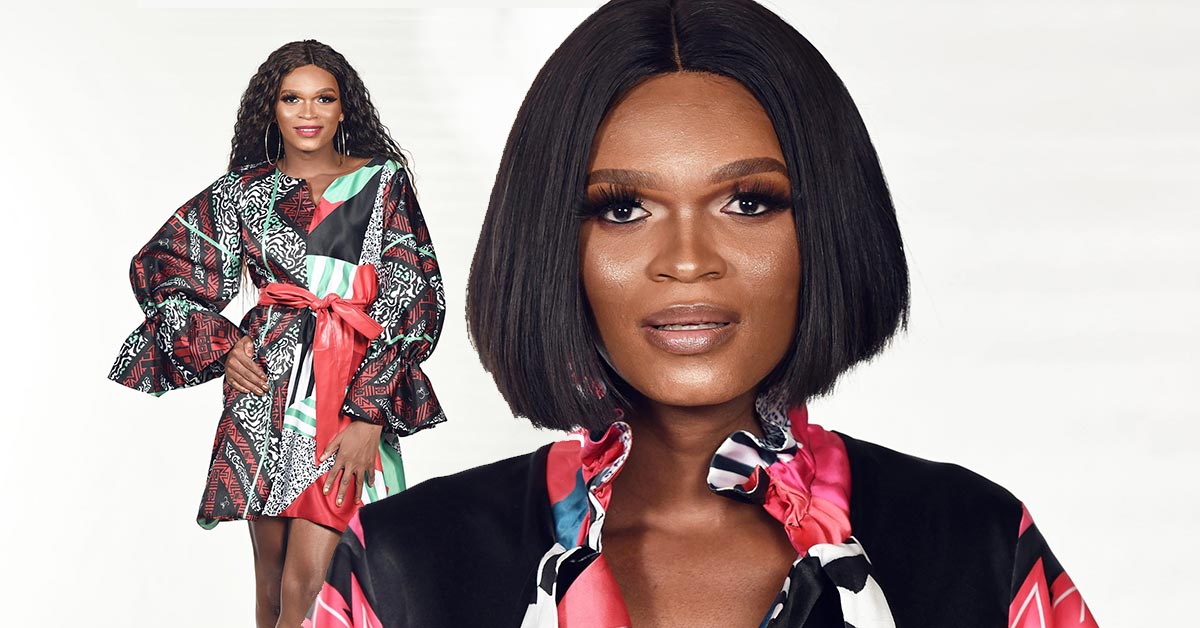 Anyone who's been on Joburg's queer social scene cannot have missed the always glamorous and proudly transgender personality Yaya Mavundla.
In addition to being named Socialite of the Year by the Feather Awards in 2018, the 32-year-old publicist, events manager and stylist is also known for co-founding the Mzanzi Pride event and being photographed by iconic artist Zanele Muholi.
In January, the outspoken Yaya raised eyebrows among some in the LGBTIQ+ community when she appeared on MacG's Podcast & Chill show in the wake of its high-profile queerphobia row. While Mavundla called out and engaged MacG, critics felt she risked giving him an opportunity for unearned redemption and to placate his nervous sponsors.
She's since moved further into the mainstream as one of the participants in Becoming, the ground-breaking Mzansi Magic reality show that follows the lives and transition journeys of four transgender South Africans.
The outspoken Yaya opened up to MambaOnline about her controversial views on LGBTIQ+ activism, classism in the community and her journey to become her true self.
Yaya, tell us more about yourself…
I was born in Kranskop, which is a deep rural area of KwaZulu-Natal. That's where I grew up and stayed for 15 years and later on moved to Durban.
You've talked about how you were bullied at school.
That was such a painful journey for me as I was very fragile at the time. I for some reason got fed up, took a chance and stood up for myself. Surprisingly, I received so much respect after that. The other day someone tagged me on a Facebook post telling their friend that they used to call me "mfana ntombazane" and that I was never beaten up or anything for being myself. That triggered a lot of emotions and made me realise that they show no remorse for their insensitive and wrong behaviour. I would advise a young LGBTIQ+ individual who is going through the same problem to be themselves and to report that behaviour to someone who is in a position to protect and support them.
When was it that you came to accept your identity as a transgender woman?
I came to realise that I was transgender in 2013. I had just moved in with Prof Sir Zanele Muholi, who was my friend and an employee at that time. The support was amazing. I think the people around me had seen it in me but did not know how to address it. Though I identified as a gay person before then, I believe I was always a woman; just that I did not have the knowledge of what a transgender person is.
How has the recent wave of LGBTIQ+ murders impacted you?
I am not going to lie, I am stressed. I fear for my friends who are in the townships and all those who are vulnerable and might be an easy target. I also fear for myself, because of me being in a public space and publicly advocating for the rights and visibility of transgender people. That alone annoys and is triggering to homophobes and transphobes. That's why I always make sure security needs to be very tight wherever I stay and I have distanced myself from being in spaces where I can be an easy target.
You were criticised by some members of the community because you appeared on the MacG show. Do you regret doing that or do you stand by your decision?
It was proof that what I always believed about activism in South Africa is true. The classism, the hate amongst ourselves as people, the bullying and wanting to police how and what people do is problematic. Speaking well and knowing politics better isn't activism; action is real activism. Given the opportunity to be on MacG's podcast, I would go again because those are the people that need to be addressed, instead of the many LGBTIQ+ conferences that happen among ourselves that exclude the people that really need to be engaged on such topics. So, let's respect people who want to start such conversations. Even if they have little knowledge, they are paving a way.
That relates to comments you've made about being dismissed by some activists "for not using the rights words."
I see that as wanting to oppress the majority of transgender people who especially come from disadvantaged spaces and particularly the rural areas. Are we then saying those who aren't in the know are "less" transgender and that their voices do not matter and should be silenced? That is unfortunate because those are the people who are actually more visible in society. And the elite LGBTIQ+ individuals and those who come from certain organisations only surface when there are media interviews. It hurts me because the people on the ground who do the actual work and are in danger and experience hate crimes first-hand aren't getting funding. I am in a space where I don't want any association with any organisation that is set up to do work for the LGBTIQ+ because we don't have the same vision.
You've said that "Society never stopped me from doing what I want to do." Where does this strength to be yourself come from?
After I left home at 16 years because I was mistreated, and I was able to survive, I realised that there is nothing that I could never be able to do if I want it. After I lived in the streets, both in Durban and Johannesburg, and survived those painful experiences, I knew I can be and do whatever I want and I will succeed.
"Deciding to do the show came after realising how important it is for us transgender people to finally tell our stories with our own voices…"
One of the topics addressed on Becoming is that you have not had a relationship with your mom. How has that affected the person you are today?
I don't think not having a relationship with my mother affected me in any way that I can pinpoint. Yes, traditionally it might have affected me as it would have been great to know my mother's family and there might be things they need to do for me traditionally. But other than that, it made me a stronger woman. In actual fact, it encouraged me to be a mother to many people in our community and outside of the community. I have and still play a mother figure role to many people.
Do you have any of your own role models or individuals that have inspired you?
Strong women, in general, inspire me, from different walks of lives. Women who sell vegetables; a trans woman who comes from difficulties; my late friend Lee Siba for the work she did for beauty queens and for queer people in Daveyton; and Ricki Kgositau-Kanza for her courage in taking on the Botswana government for her ID document to be marked as female. Which also gave me the courage to face Home Affairs and negotiate with them to fix not only my issue but all transgender people in South Africa who have applied for gender amendment on their IDs. I am negotiating a cut-off date for this and should this not happen, I have made it clear to them that I will be taking this matter to court, and on the day of elections I will be organising a march to the Union Buildings so our issues are taken seriously.
There are many, of course, but what for you are the two biggest challenges facing transgender South Africans right now?
That's very tricky because there ARE many. I think the first one is unemployment. The majority of transgender people in SA are not employed because if at all they get an opportunity somewhere, they are forced to come to work as what their ID identifies them as, not who they see themselves and want to be. And they are underpaid or mistreated, which in most cases forces them to leave. The second is a lack of access to government services, which includes a lack of access to health care including hormones, and the mistreatment at police stations.
Did you have any concerns about opening up your life to the public on TV by signing up for Becoming? Why did you decide to do the show?
My first concern was the fear of how my story would be told and how I will be painted because what people at home need to understand is that it's the director and producers of the show that have a final say on what will be seen by the audience at home. I say to people that unfortunately, reality TV isn't live TV; there are edits. However, my conversation with [producer] Mam Basetsana Kumalo made me believe that my story was going to be treated with respect. Also, the team I worked with was amazing. Deciding to do the show also came after realising how important it is for us transgender people to finally tell our stories with our own voices, not through third parties.
What has the response from the public been like?
Surprisingly, the response has been so positive, people both on social media and in the streets have been so positive and supportive. I am truly surprised and grateful. Especially because I was scared and I was also worried that people would want to compare myself and the other cast members and none of that happened. Instead, they love us all equally.
What impact do you hope Becoming will have on South Africa?
I want more transgender visibility through Becoming and, also, I want transgender people to be understood better, to work where they want to work as themselves and have fair treatment and access to government facilities.
Who would be an ideal date for Yaya?
My ideal date will be someone who respects me, understands and supports my journey, and is willing for me to do the same for him.
What is the biggest misconception that people have about you?
Some people think I am a diva, that I am choosy, difficult to reach out to and I don't work. None of that is true.
Tell us something surprising about yourself that we'd never know?
[Laughs] I love walking barefoot and I enjoy sleeping on the floor. I think that's it!
Watch Becoming on Mzansi Magic (DStv channel 161) on Wednesdays at 20:00. The series is also available on DSTV Catch Up.