Conversion camp slasher 'They/Them' isn't your average horror film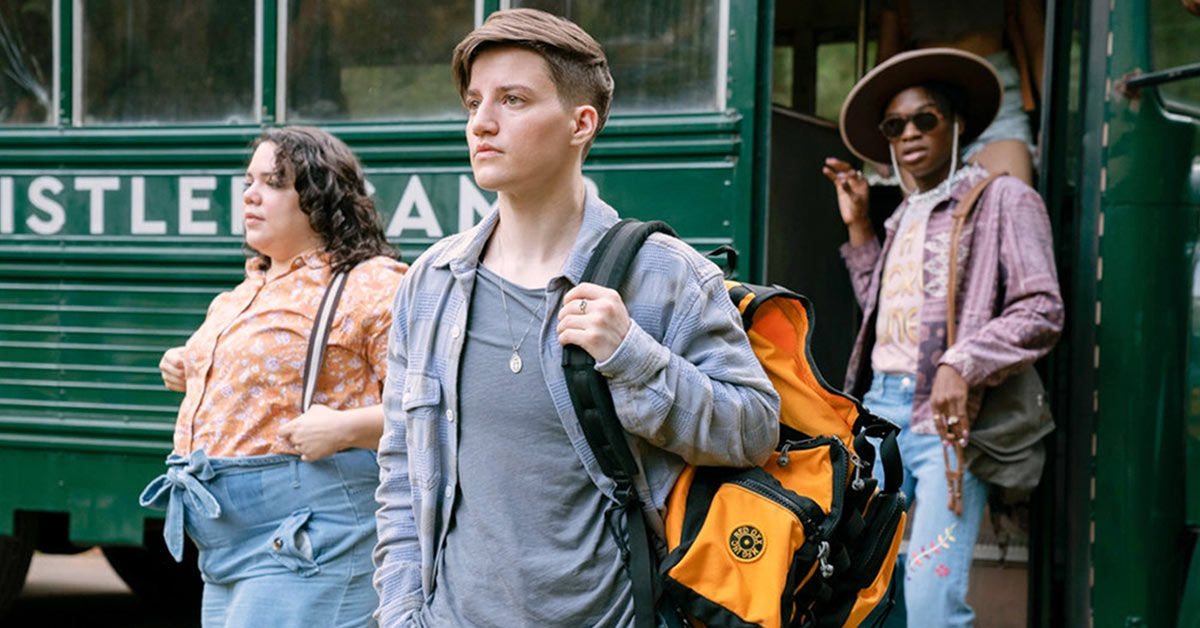 The recently released queer horror film They/Them places queer fear and homophobia front and centre in a thrill-fest that's also laced with laughs, and features an emotional storyline that'll hit home for many members of the LGBTQI+ community.
In short, They/Them (written and directed by John Logan, a three-time Oscar-nominated and openly gay filmmaker who also wrote Sweeney Todd: The Demon Barber of Fleet Street, The Aviator and Gladiator, among others) is about the goings-on at a "conversion therapy" camp, where the campers soon realise their initial warm welcome wasn't to be trusted.
The camp's methods prove to be brutal, and the words used to taunt the campers cut just as deep as the knife of the slasher roaming its grounds. Fear not, though – the movie also features a killer musical sequence set to the music of P!nk, and also has many comical and heartfelt moments that break the tension.
The name of the flick already sets the scene for a story that's as layered as it is nail-biting: "They-slash-Them" is a clever way of tying the title of the movie to the steadily growing list of queer horror films (think of Jennifer's Body, The Hunger and Hellbent).
According to They/Them's lead, Theo Germaine, the title also points to the growth of their character, Jordan Lewis – one of the campers and the story's protagonist. Speaking to The Hollywood Reporter, Germaine describes how the title also plays into the trajectory of Jordan's experience at a so-called conversion therapy camp.
Says Germaine, "If we're talking specifically about the character, Jordan, and the trajectory that they experience and they go through during the film, they start off by their self. They show up at this conversion therapy camp a very hyper independent, you know, pretty traumatised person who very much is like, I'm going to need to get through this myself, which is how they have always gotten through things […] So in that aspect, at the beginning of the film, it's they – a singular they, Jordan by themselves. By the end of the film, because of all the experiences that happen, Jordan experiences this feeling of community and camaraderie with all of these other campers that they really didn't expect to feel. So that makes me think about them."
They/Them has a strong connection to the horror films of yore thanks to the appearance of Kevin Bacon (Friday the 13th), who not only stars as Owen Whistler, the man running the camp, but also acted as a producer of the movie.
The film's creators took great care in casting actual queer actors, and the crew is also inclusive – something that has been hailed in an era where there are constantly calls to cast queer actors in queer roles.
Of course, there is also a connection with another film about conversion therapy that received praise a few years ago. Based on Garrard Conley's real experience at a camp where the sole goal was to change or "cure" his sexuality, and the memoir of the same name he wrote about it, Boy Erased is certainly a different depiction of the dangers of conversion therapy – albeit not one that isn't just as horrendous as the view offered in the latest camp slasher.
As queer rights come under fire, They/Them is a timely reminder of just how terrible this onslaught is.
Theo Germaine echoes this sentiment, saying, "There are a lot of baddies who don't like us and don't want us to have rights. I have stronger words that I will not say, because it involves language that is foul! But that's also what makes me all the more excited and inspired to work on something like this. It is a project that takes the terror and fear that queer people experience very seriously … and you see that these are real people with real hearts and souls that need to be protected."
They/Them was exclusively released on Peacock, an American streaming service that is unfortunately not accessible in South Africa – one hopes the film reaches our shores soon. Check out the trailer for They/Them below.