Miss South Africa marks 32 years of Pride at rainbow flag raising
Miss South Africa 2022 Ndavi Nokeri joined LGBTIQ+ activists on Thursday to raise the rainbow flag at Constitution Hill in Johannesburg to mark Pride Month and the anniversary of Africa's first Pride event.
The flag-raising ceremony, held alongside the announcement of the 2022 Feather Awards nominees, commemorated the first Johannesburg Pride march which took place 32 years ago on 13 October 1990.
A small group of activists and allies, including Virginia Magwaza from the Gauteng Premier's Office, Dr Dulcy Rakumakoe, Thami Dish, and Nokeri, gathered on a rampart overlooking the Constitutional Court and the Old Fort for the observance.
Magwaza, who is also the founder of Parents, Families and Friends of South African Queers (PFSAQ), noted the aptness of holding the event at the site of the Constitutional Court which ensures that the human rights of LGBTIQ+ South Africans are protected.
"This flag symbolises the unity and the hard work of those who came before us and worked hard in making sure that we have an opportunity to gather like this," said Magwaza. "Let us also think about those who cannot gather like us in our neighbouring countries and on the continent at large."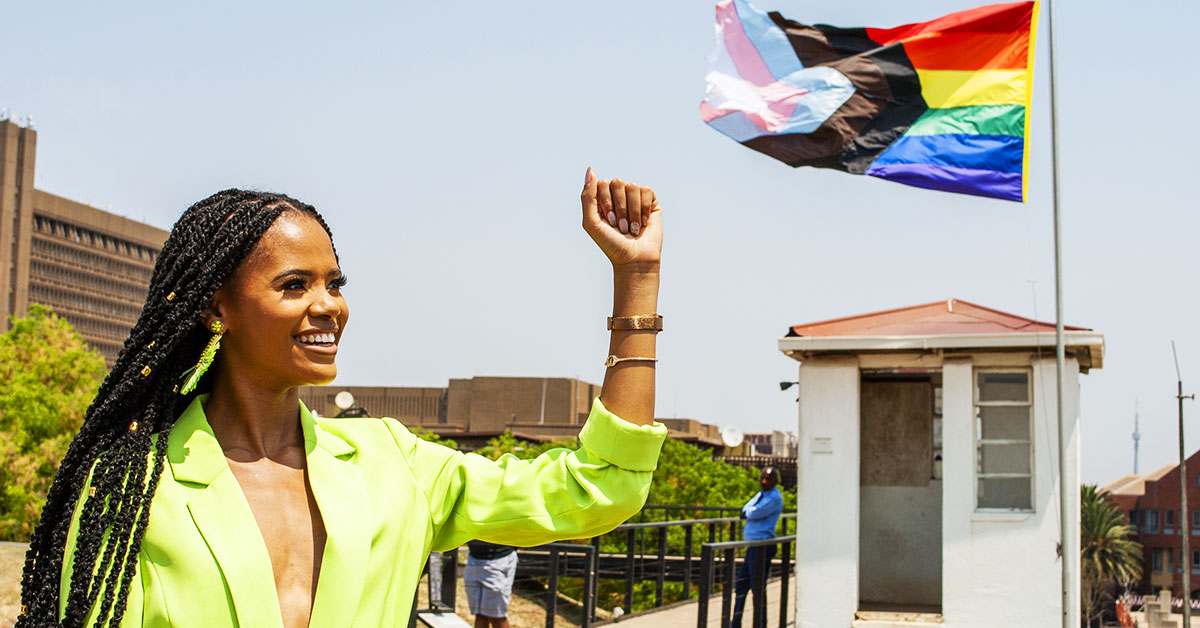 Dr Rakumakoe reminded the audience that while South Africa has the best constitution in Africa "the implementation on the ground is most important" and that "people's lived experiences must reflect what is said in the Constitution".
Her words were tragically pertinent, coming on the heels of news this week that Tankiso Tawanyane, a 34-year-old lesbian woman, was gang raped by three men, set alight with paraffin and left for dead in Kimberley. She later died in the hospital.
After the short speeches, the group proceeded to raise the inclusive Progress Pride rainbow flag to cheers and applause. The flag will continue to fly at Constitution Hill for the rest of October.
Nokeri later described the flag-raising ceremony as "amazing" and announced that she is launching an equality education campaign.
"Equality counts for everyone," the reigning Miss South Africa said. "It's important to look at how far we've come as a country and that everybody's rights are protected."
Nokeri urged the LGBTIQ+ community to "continue to be bold, continue to be yourself and continue to be prideful of who you are".