Ekurhuleni Pride 2016 comes to Vosloorus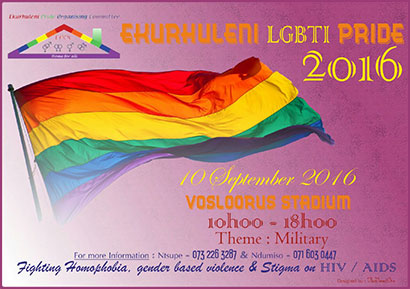 The eighth annual Ekurhuleni LGBTI Pride is taking place on Saturday 10 September in Vosloorus.
The event, organised by Epoc LGBTI, aims to highlight the struggle against homophobia, gender based violence and the stigma associated with HIV/Aids.
The Pride is being held at the Vosloorus Stadium, from 10am to 6pm.
This year's theme is "military". There will be entertainment and pop-up poetry sessions.
In April, Ekurhuleni was the site of two horror hate crime murders: That of a gay Vosloorus man, 27-year-old Tebogo Mokhoto, who was stabbed and anally raped with a wooden object, and Lucia Naido, a young lesbian woman, who was stabbed to death on the night of her birthday in Katlehong.
For more information about Ekurhuleni Pride (including details on transport to the event) please contact Ntsupe on 073 226 3287 / ntsupe21@gmail.com.