Will & Grace could return next year!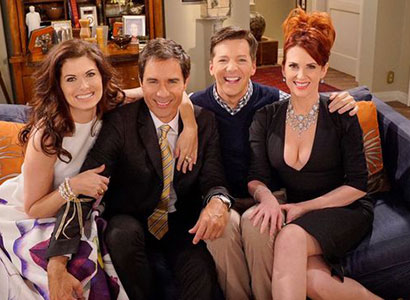 Our prayers have been answered (we hope)! According to reports, there are talks to bring back Will & Grace for a set of brand new episodes.
The move follows the hugely positive reaction to last month's surprise revival mini-episode, released online to support Hillary Clinton's presidential campaign.
The sets for Will & Grace had been in storage for the last ten years and were perfectly reassembled for the clip. Fans were also amazed how easily the cast slipped back into their iconic roles after a decade. (The video's been watched more than 6 million times.)
"The response has been very overwhelming and really, really heartwarming," Debra Messing (Grace) told People.com at the time.
According to The Hollywood Reporter, the cast and the show's creators are now in discussions with the NBC network to produce a 10-episode limited series revival that could be screened in 2017.
Also speaking to People last month. Eric McCormack (Will) didn't rule out the possibility of bringing back the show. "I'm sure we would all be open to talking about it," he said.
Will & Grace was broadcast from 1998 to 2006, over eight seasons, winning 16 Emmy Awards. It broke new ground by featuring gay leading characters on prime time television.