Ellen almost misses White House medal ceremony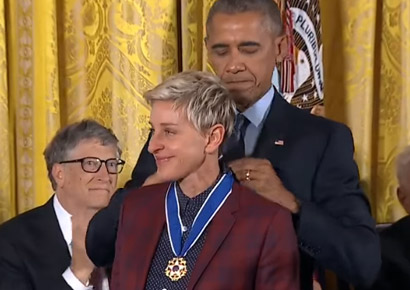 Despite almost being locked out of the White House, an emotional Ellen DeGeneres was awarded the Presidential Medal of Freedom by President Obama.
On Tuesday, DeGeneres forgot to bring proof of her identity to the ceremony which saw her initially denied entry into the White House.
"They haven't let me into the White House yet because I forgot my ID. Not joking," she tweeted.
She and wife Portia De Rossi eventually made it in and joined a host of luminaries to receive the prestigious award from Obama.
As she waited for the president to put the medal around her neck, the talk show host and comedian became visibly teary-eyed.
Obama applauded DeGeneres not only for her ability make people come together and laugh, but also for her courage as an openly-LGBT entertainer.
"It's easy to forget now, when we've come so far, where now marriage is equal under the law — just how much courage was required for Ellen to come out on the most public of stages almost 20 years ago," he said.
"Just how important it was not just to the LGBT community, but for all of us to see somebody so full of kindness and light, somebody we liked so much, somebody who could be our neighbour or our colleague or our sister challenge our own assumptions, remind us that we have more in common than we realise, push our country in the direction of justice."
Obama added that, "Ellen counters what too often divides us with the countless things that bind us together – inspires us to be better, one joke, one dance at a time."
The Presidential Medal of Freedom is America's highest civilian honour, and was presented to DeGeneres and 20 other achievers, including Michael Jordan, Robert De Niro, Bill and Melinda Gates, Diana Ross and Bruce Springsteen.
After the ceremony, DeGeneres posted a "mannequin challenge" video that featured the star-studded medal honorees (watch below).
I'm in. pic.twitter.com/oU344pnYsH

— Ellen DeGeneres (@TheEllenShow) November 22, 2016