Ellen and Pharrell talk prejudice as homophobic gospel star loses radio show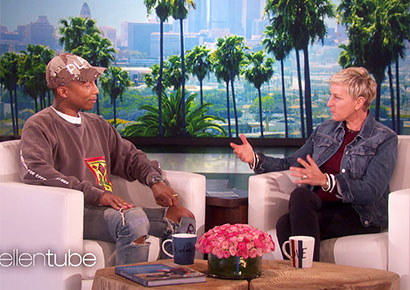 Following anti-gay comments by gospel star Kim Burrell, Pharrell Williams has told Ellen DeGeneres that there is no room for prejudice in the world.
Burrell, who sings on the Williams produced song I See Victory, was meant to appear on the Ellen DeGeneres Show with him but was dropped by the host after calling gay people perverts and sinners in a sermon.
On Thursday, DeGeneres explained why she had cancelled Burrell's appearance: "She said some very not nice things about homosexuals so I didn't feel that was good of me to have her on the show to give her a platform after she was saying things about me."
Speaking to DeGeneres on her show about the controversy, Williams said: "There's no space, there's no room for any kind of prejudice in 2017 and moving on. There's no room."
He went on to add that Burrell is a "fantastic singer" and that he "loves her" but "we all have to get used to everyone's differences and understand that this is a big, gigantic, beautiful, colourful world and it only works with inclusion and empathy."
DeGeneres commented that she couldn't understand how someone who came from a background of persecution could go on to perpetuate hate towards other groups.
Williams responded: "Whenever you hear some sort of hate speech and you feel like it doesn't pertain to you because you may not have anything to do with that, all you got to do is put the word black in that sentence, or put gay in that sentence, or put transgender in that sentence, or put white in that sentence and all of the sudden it starts to make sense to you."
Meanwhile, Texas Southern University's KTSU-FM has announced that Burrell's weekly radio show, Bridging the Gap, has been cancelled in the wake of her anti-gay rant. The show had only been on-air for five months.
In a sermon at the Love & Liberty Fellowship church in Houston on December 30, Burrel said: "Anybody in this room who is filled with the homosexual spirit, pray God to free you. You're playing with it in 2017, you'll die from it.
"I came to tell you about sin… That perverted, homosexual spirit is a spirit of delusion and confusion. If you, as a man, will open your mouth and take a man's penis in your face, you are perverted.
"If you are a woman and you shake your breasts in another woman's face, you are perverted."
Burrell has refused to apologise for her comments.