Trump not planning to sign sweeping anti-LGBTQ order "at this time"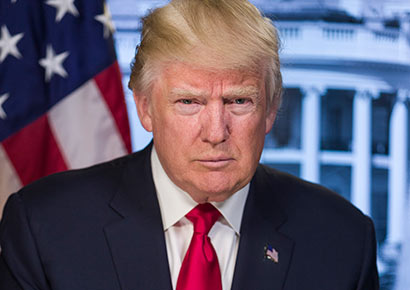 The White House has responded to the leak of an alarming draft executive order that would legalise discrimination against LGBTQ people on the basis of religious beliefs.
Details of the four page document, titled "Establishing a Government-Wide Initiative to Respect Religious Freedom," were published by The Nation.
According to the site, the order "seeks to create wholesale exemptions for people and organizations who claim religious or moral objections to same-sex marriage, premarital sex, abortion, and trans identity, and it seeks to curtail women's access to contraception and abortion through the Affordable Care Act".
The Nation said that it would affect every walk of life: "When providing social services, education, or healthcare; earning a living, seeking a job, or employing others; receiving government grants or contracts; or otherwise participating in the marketplace, the public square, or interfacing with Federal, State or local governments."
The document, described as "sweeping" and "staggering," is understood to be among a slew of other proposals being circulated within the Trump administration.
Reacting to media reports about the order, White House spokesperson Sarah Huckabee Sanders told ABC News: "We do not have plans to sign anything at this time but will let you know when we have any updates."
The document's leak comes just days after Trump announced that he would keep former President Obama's landmark 2014 executive order protecting LGBTQ employees of federal contractors from discrimination.
The White House insisted then that, "President Donald J. Trump is determined to protect the rights of all Americans, including the LGBTQ community."
LGBTQ+ groups expressed alarm at the leaked draft order. "If anything in this document were to become federal law, it would be a national license to discriminate, and it would endanger LGBTQ people and their families," said Sarah Kate Ellis, GLAAD President & CEO.
"Freedom of Religion does not mean the freedom to discriminate. If the Trump Administration moves forward with any of these unconstitutional and un-American policies, the chorus of public outcry will get even louder while the president's approval ratings continue to crumble," she said.
HRC President Chad Griffin added that if Trump goes through "with even a fraction of this order, he'll reveal himself as a true enemy to LGBTQ people". He warned that the order's impact would "extend to anybody in the LGBTQ community, women, minority religious communities and others".