We love Diesel's stunning new 'Make Love Not Walls' ad campaign
Photographer and director David LaChapelle has celebrated diversity and love in all its forms in a sexy new short film for Diesel.
The video comes in the wake of growing conservatism in many countries towards immigrants, refugees, the LGBT community and other minorities.
In the US, President Donald Trump has promised to build an enormous wall between the US and Mexico.
"#makelovenotwalls is about tearing down the mental and physical walls that separate us, and let all sides come together in the name of unity and love," said the company.
"Diesel wants to tear down these walls showing that a brighter and exciting tomorrow is possible."
The stunning video for the clothing label includes a same-sex wedding sequence and kiss between two men.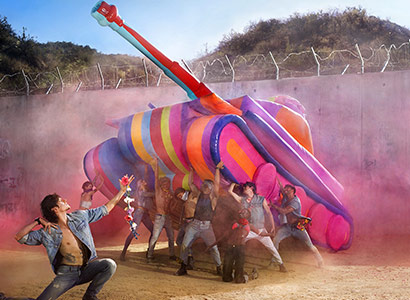 "At Diesel, we have a strong position against hate and more than ever we want the world to know that, to use our voice for good, love and togetherness is crucial in creating a society we all want to live in, and the future we all deserve," said Diesel Artistic Director, Nicola Formichetti.
LaChapelle is known for his pop-style celebrity and fashion photography and has directed music video for the likes of Enrique Iglesias, Elton John, Mariah Carey, Christina Aguilera, Jennifer Lopez and Britney Spears.
Watch the short film below.