Homophobic, sexist preacher Angus Buchan leads South Africa in prayer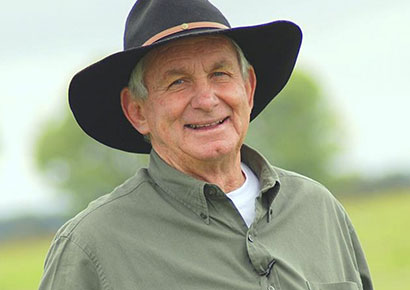 It has taken a homophobic preacher, Angus Buchan, to lead one of the largest gatherings of South Africans in recent years.
On Saturday, Buchan hosted a mass prayer at Wilde Als Farm, on the outskirts of Bloemfontein, attended by hundreds of thousands of Christians from around the country.
Addressing the massive crowd, the KwaZulu-Natal-based pastor called for a religious, non secular state: "This is not a political change. This is a Jesus change, because we need a Christian government."
He also said: "I look forward to the day Parliament begins every morning with the reading of scripture and prayer, because that is what South Africa needs."
Buchan, a Zimbabwe-born farmer and evangelist of Scottish descent who now lives in Greytown, is known for his conservative views on gender roles and his condemnation of homosexuality.
He has also preached that homosexuality can be "cured" through prayer.
"I cannot ever agree that homosexuality is right, I cannot bless it. I love them though, but they need help. We have prayed for them and God has changed their hearts," he said in 2008.
Buchan, who attracts thousands of men to his so-called Mighty Men Conferences, also preaches that men should rule the home and teach their wives to know their place.
In August last year, LGBT activists in the UK mounted a campaign against Buchan's UK tour, which included a talk in Scotland. They succeeded in pressuring the evangelical Hope Church in Tweedbank to cancel the engagement.
British LGBT rights veteran Peter Tatchell condemned Buchan for his "misogynistic and homophobic views", adding that, "His belief that gay people need help and can be 'cured' is false and harmful, as are his views about 'traditional' gender-roles."
Saturday's event in the Free State aimed "to call upon The Lord to bring justice, peace and hope to our beloved South Africa". It was attended by the likes of DA leader Mmusi Maimane.
In 2015, Maimane was forced to affirm his support for LGBT equality and same-sex marriage, after a video emerged of him preaching at the Liberty Church in which he appeared to suggest that gay people, along with Muslims, are sinners who can be saved through Christianity.
LGBT commentator Scott Fuller wrote on Facebook about Buchan's gathering: "South Africa doesn't need his prayers or his hate. You know what we unite behind? Multi-faith, civil society, NGOs, and political opposition marches, because we are a nation that has many beliefs, many cultures, and many races, and we're founded on diversity. We embrace our differences. That's something you'll never hear that farmer preach from his pulpit."