Meet Priscilla's breakout star Phillip Schnetler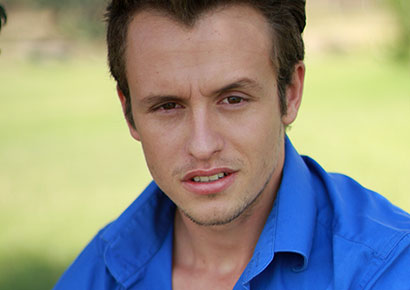 A self described Afrikaans farm boy, Phillip Schnetler has broken out into the big-time with the hit South African production of Priscilla Queen of the Desert.
Based on the 1994 film, the stage musical has wowed Cape Town audiences and is now on in Johannesburg. It tells the story of three drag performers on a road trip across the Australian outback; on their way to a gig and for one of the men to meet his son.
The openly gay Schnetler plays Adam, a good looking, arrogant but also ultimately sensitive specimen from Sydney, who becomes the victim of a gay bashing. The role is the most physically demanding of the three leads and Schnetler gives it his all as a vocalist and dancer.
The Lydenburg-born star was an acrobat in school and then branched out into the performing arts, studying Musical Theatre at the Tshwane University of Technology. Priscilla is his biggest leading role to-date – and he nails it. (Including the notoriously difficult Aussie accent!)
Phillip, had you seen Priscilla, the show or the movie, before auditioning for the role?
I only saw the movie a few years ago, before I auditioned, and again right before the callbacks.
How would you describe your character of Adam?
He's a very naive guy, and doesn't know a lot about life outside Sydney. He's also very difficult to get along with, and could be perceived as rude sometimes. He has a drag persona called Felicia.
Do you see Felicia as almost a separate character?
Felicia's personality is quite addictive. She has a snappy sense of humour and doesn't care about anything in the world. Adam feels completely immortal as Felica; he could totally get away with anything he puts his mind to… or so he thinks… I wouldn't say they are different characters – as they are embodied by one person – but they do have their differences.
What role does Felicia play in Adam's life?
I would say Felicia is Adam's escape from the real world. Even though he's a very strong willed guy, he definitely feels that Felicia gives him more confidence and he gets up to more shenanigans. He is way more comfortable in her skin.
How much of your personality did you bring to the role of Adam?
I would like to think that I am completely different from the character, but apparently I am quite similar in life. I would say I'm not as bitchy as he is, and I definitely think before I open my mouth. Adam says exactly what comes to his mind, and doesn't deal with any of the consequences. He is also way more camp than I am! [Laughs]
Are there any experiences that Adam has that you can relate to?
I think we are both a little misunderstood, but we deal with our issues in a completely different manner. I think both of us are mommy's boys… and we both have quite a good sense of fashion. [Laughs]
What's been most challenging about performing the character?
It's physically the most difficult part I have ever played. Dancing my butt off, and singing like there is no tomorrow. And not slacking in energy. Eight shows a week and they should all be as great as the first show. I think the most challenging part is the Australian accent. Man, I still struggle with it. I mean, I'm an Afrikaans farm boy. [Laughs]
There's been a long debate about how actors should play gay roles and how effeminate or camp they should be…
I don't think there should be any stigma about how characters should be played; be it gay, straight, or whatever else. We are all individuals and how we perceive certain people will always differ from person to person. For instance, I have many straight camp friends, and many gay butch friends…
In a show like this, the chemistry between the three leads is vital…
The chemistry between the three of us came so naturally… It is all about opening yourself up to the process, and indulging in every moment. Daniel [Buys] became like a bigger brother to me and David [Dennis] became like the theatre dad I have always wanted.
You've been in other musicals. How does this one compare to the rest?
Well, I've done a lot of Afrikaans musicals but this would only be my third ever Broadway produced musical and my first principle character in a show. It is so amazing! I could do this every day. Oh wait, I am! [Laughs]
Had you done drag before Priscilla?
Not really. I mean, I have dressed up in women's clothing, but I haven't paraded around on any bar tops in full drag… as Adam would put it. [Laughs]
What do you think is the attraction among many men, gay and straight, to doing drag?
I think it's the fact that you feel like another person, and as soon as you put on those heels, you feel like you can do anything… It's a lot of fun, so I completely understand why anyone would do this.
What kind of message do you think Priscilla sends to the wider world about LGBTIQ people and issues?
Don't judge a book by its cover. Get to know someone first before you point a finger or judge them. It's about friendship and love.
Which is your favourite moment or musical number in the show and why?
I have to say it's changed many times. At this particular moment, my favourite moment would be the [famous opera] lip-sync on top of the bus. It's just such a fun moment and the audience loves it.
Adam's a big fan of Kylie Minogue in the show. Do you have a fave pop diva of your own?
I love Adele! I just admire her as an artist and her music truly speaks to my heart. I know she isn't really a pop diva but, oh well… [Laughs] She writes her own music, her voice is just magnificent and she doesn't need any pyrotechnics to make her shows great.
What is it about Priscilla that it continues to have such appeal after all these years?
I feel that the show's still relevant, 25 years later, because we still deal with the same social issues that we dealt with back then. Even though people are more accepting of people who are different, I don't feel they know well enough of what those people deal with on a daily basis; bullying and name calling and so on… Hopefully, this show will give people a different outlook and knowledge about those issues.
Priscilla Queen of the Desert is on at the Teatro at Montecasino in Johannesburg until 18 June 2017.