Book review: Somizi's Dominoes biography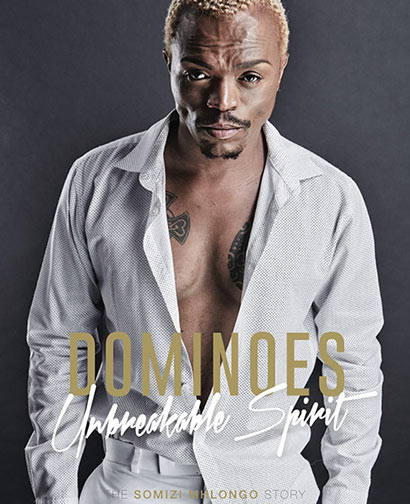 Somizi Mhlongo's controversial autobiography is reported to be a sell-out in many stores, but is it worth you shelling out your hard earned cash for?
Love him or hate him, Mhlongo, also known as Somgaga, is a major player in South Africa's pop-culture landscape. As an openly gay actor, choreographer, presenter, socialite, reality star and Idols SA judge, he is undeniably the most high profile LGBT entertainer in the country.
To some he is narcissistic, crass and arrogant, to others he is an entertaining, talented and lovable role model. He's become a household name; whether he's presenting an awards show, calling out a homophobic pastor on Instagram, selling some product or the other or making tabloid headlines.
His biography Dominoes: Unbreakable Spirit, co-written with journalist Lesley Mofokeng, was recently released to much fanfare.
The book is surprisingly slim; a mere 112 pages (of which 11 are of pictures). While he is admittedly still young at 44, Mhlongo's lived a very eventful, public and outrageous life. So I expected a longer, more in-depth offering.
It's this lack of detail that's most disappointing. There's a lot that's been left out. His daughter is barely mentioned as are important parts of his career; such as his now-rarely-seen drag persona Madame Gigi, who even had her own television talk show at one point!
Yes, there's a fair amount of celeb scandal and dish in Dominoes but there could be more. It's clear that what is there has been carefully selected. The book deals with Mhlongo's sexuality, recounts his friendships with stars (the likes of Brenda Fassie and Lebo Mathosa), and his famous conviction for sexual assault (he continues to insist he was innocent).
Mhlongo also reveals that he is living with a serious disease, but other than suggesting it might be cancer, diabetes or HIV, doesn't say what it is. Of course, no-one should have to disclose their medical conditions, but it does seem truly bizarre to take this route of leaving the reader simply guessing. (This is a biography after all.) Mhlongo may well have missed an opportunity to do some good by reducing the stigma and misconceptions around whichever condition he has.
Dominoes is not, frankly, the most well written biography I've read. The book seems more hastily "compiled" than written in a consistent voice and style. One can tell that it's based on the many audio notes made by Mhlongo that were then transcribed and put together by Mofokeng. Some paragraphs seem to be directly repeated in Mhlongo's speaking voice while in others the style and tone is jarringly different.
The result is that Dominoes seems rushed and not well edited. There are inconsistencies and some details don't always make sense. The reader is often left wanting more explanation, more substance and more insight into the man behind the flamboyant image.
Dominoes: Unbreakable Spirit almost reads as a very long magazine article, and smacks of something of a vanity project, rather than a meaty biography. It lacks satisfying context in terms of the political and social realities Mhlongo faced over the years and offers very little insight into being a black gay man in South Africa. Things often just seem to "happen" and many dots are left unconnected.
Despite these challenges and flaws, the book is very readable. It will appeal to anyone who is interested in how Mhlongo got to where he is, and many elements of his journey from child performer to national celebrity are indeed fascinating.
Dominoes might be an ultimately superficial and frustrating documenting of Mhlongo's life but it nevertheless makes an impact through its very existence and visibility. Not many LGBT South Africans have been given a public voice that is heard by so many and Mhlongo's defiance and success is an important story. It perhaps deserved a better telling than this.
Dominoes: Unbreakable Spirit retails for R180 in stores.