"My pride is gone": Joburg man gay bashed & then mocked by police (graphic)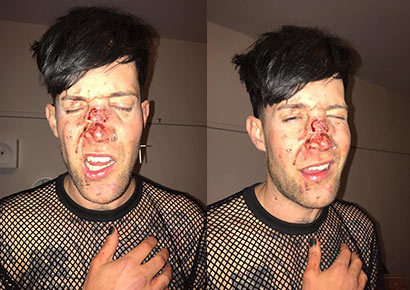 A 34-year-old gay Johannesburg man was brutally smashed in the face at a music festival and then mocked by a policeman when he reported the hate crime attack.
Hairstylist Brandon Swanepoel was expecting to have a fun night out with friends at the Grietfest music festival, held in a container yard in the south of the city on Saturday night.
While dancing with someone he'd met at the event, he saw another man in the crowd appearing to be making derogatory comments with his friends about the couple.
Swanepoel asked the man what he was saying, to which he replied: "Just don't touch my ass." Swanepoel retorted: "I would never touch your ass."
Before he could react the man punched him. "He smashed me probably twice through the face, I can't even remember the second punch but it looks like it was two punches," Swanepoel told Mambaonline. "It was horrific. My nose was split open, it was so bad."
Stunned and bleeding profusely, Swanepoel was assisted off the dance floor by two people who were behind him in the crowd. They saw the attack and have since become witnesses in the incident. They also claim to have seen the assailant and his friends laughing at the injured man after the assault.
Swanepoel was taken to the emergency room and is undergoing treatment that may require surgery once the swelling goes down. "He broke my front teeth and all the bones in the front of my nose. My face is pretty smashed and I'm struggling to breath," he said.
"We're not safe all"
To make matters worse, when Swanepoel went to the Moffatview Police Station for a case number the next day, he was mocked by an officer in what appears to be a case of secondary victimisation. In a video he recorded of the incident, Swanepoel is heard asking the officer for a case number.
The officer responds: "Don't stress, you'll get your case number. I am here for you. If you want to make me your boyfriend, I can be your boyfriend." When Swanepoel asks him, "What do you mean by that?" the officer tells him to "relax".
Swanepoel explained that he recorded the exchange at the police station because he'd been in a similar situation before and had then been faced with homophobia by the police.
"I took so much offence [at what he said]. There I'm sitting, I've just been gay bashed at a party, I've just been attacked… and this guy judged me so harshly and says he'll be my boyfriend. Why would he say that to somebody?"
Swanepoel is angry and deeply shaken by the attack. "I feel like my pride has been taken away. This guy has broken me down. I'm a hairstylist. I work in the image industry and he's really put me out. I look horrific. He hasn't just dented my ego, he's ripped it apart," he said.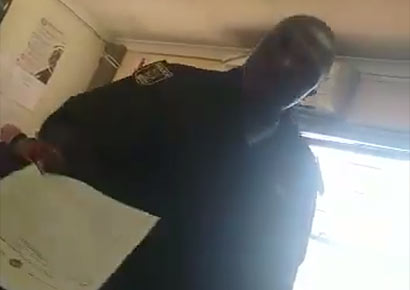 "I've been hit before, because I'm a bit different and I wear nail polish, but this time round I feel like I need to say something. Otherwise this is going to happen time and time again. And this guy is out there and is going to do this to someone else."
Swanepoel has been supplied with pictures of the crowd at the festival, which show the moment of the attack as well as a man that he and his two witnesses allege to be the assailant. Swanepoel wants to identify his attacker and has asked anyone who has any information to come forward.
"If people know that he is a little gay basher then maybe I will get some justice. That's all I want. And maybe he needs to pay for my medical bills, because I don't have medical aid."
Swanepoel said the incident has confirmed to him that LGBTQ people are still at risk in the broader community. "We're not safe. We're not safe at all. Why should we have to change to fit into this society?" he asked.
"And this is a battle that boys like me and girls like me have to go through on a day-to-day basis. This is the world I live in and I cannot be myself in it."
If you have any information about the incident or Swanepoel's alleged attacker, please email him on imagejunky@gmail.com.