Dubai nightmare| Man faces jail for brushing against another man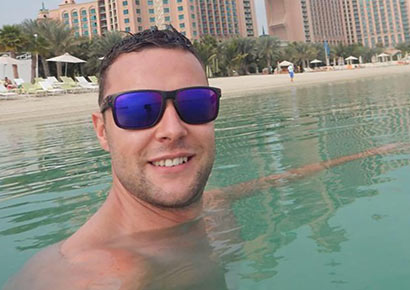 Dubai is a popular destination for many South Africans but a recent case involving a British tourist highlights the dangers of the country's criminalisation of LGBT people.
Jamie Harron, a 27-year-old electrician from Scotland, is facing three years in jail simply for the act of brushing past another man in a nightclub during a two-day stopover in July.
According to the group Detained in Dubai, Harron claims that while moving through a crowd at the popular Rock Bottom bar he steadied himself to avoid spilling his drink by touching "a man on his hip to avoid impact".
The man appeared to have no reaction but called the police and accused Haron of touching him "inappropriately". Despite the British man's apology, the other individual insisted he be arrested.
Harron was held in and out of jail for the next eight days with no idea of the charges. His passport was confiscated and he has been forced to remain in Dubai as the case unfolds.
Harron has since been charged with drinking alcohol (despite it being legal to serve alcohol at that bar) and "public Indecency". He denies the latter charge vehemently, insisting that his only intention was to avoid spilling his drink.
He has now spent over £30,000 in expenses and legal fees, while his entire £20,000 savings are gone plus another £12,000 on a credit card. His company has fired him and he is relying on a friend for accommodation.
"The whole thing is like a horrible dream and I just don't know when it is going to end," said Harron. "I thought it wou]ld be over by now but it feels like it will never be. I am lucky I have friends to stay with but this has broken me, financially and emotionally. I am in debt because of the legal fees and won't even be able to afford to appeal the case if it doesn't go in my favour".
To make matters worse, he was sentenced to 30 days in prison for failing to appear at a court hearing, despite not being informed of the date.
"Jamie has been advised by his lawyer that he is at high risk of being jailed for a duration of up to three years," commented Radha Stirling, CEO of Detained In Dubai. "It is quite outrageous that he has been held in the country for so long already. This is another example of how vulnerable tourists are to arrest and detention in Dubai and at how drawn out and disorganised legal proceedings are."
The organisation noted that most tourists who consume alcohol at licensed venues in Dubai are not aware that they can still be arrested for having alcohol in their system.
Homosexuality is illegal in the United Arab Emirates, which includes the emirates of Dubai, Abu Dhabi, Ras al-Khaimah, Umm Al Quwain, Ajman, Fujairah and Sharjah. Possible punishment includes imprisonment, fines, deportation, and the death penalty as well as hormone treatment and chemical castration.