Dubai's ruler frees Scotsman arrested for accidentally touching another man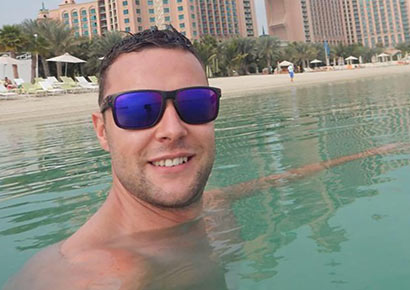 Faced with international outrage and a public relations nightmare, the ruler of Dubai has freed Jamie Harron, who was sentenced to three months in jail for "public indecency."
In a statement, the group Detained in Dubai (DID), revealed that Harron was called by the police on Monday and told that his case had been dismissed, and that he should collect his passport.
"He was understandably nervous; as similar calls from the police in other cases were merely tactics to lure individuals into police custody," said Radha Stirling, CEO of DID.
"But when Jamie arrived at the police station, his passport was returned, and he was told that he was free to go. The charges were dropped, the sentence annulled, and he faces no order for deportation. This came by direct order from Sheikh Mohammed."
Harron, a 27-year-old electrician from Scotland, was arrested in July during a two-day stopover after he walked through a crowded bar and briefly touched Emad Tabaza's hip to avoid spilling his drink.
Tabaza, the Managing Director of German company Neuman & Esser, called the police and accused Haron of touching him "inappropriately".
Harron was blocked from leaving the city and was this past Sunday sentenced to three months in prison, which he was set to appeal. He is now in financial ruin due to his legal expenses and may lose his home.
Stirling applauded Sheikh Mohammed for his intervention. "This was a courageous and honourable decision on the part of Sheikh Mohammed, and while it highlights the urgent need for judicial reform in the country, it is also a hopeful sign that the UAE's leadership possesses the will and vision to pursue such reforms in the future," said Stirling.
Harron may still institute civil proceedings against Tabaza and his employer for suffering and financial loss. Neuman & Esser has been criticised for publicly backing Tabaza's allegations against Harron.
Homosexuality is illegal in the United Arab Emirates, which includes the emirates of Dubai, Abu Dhabi, Ras al-Khaimah, Umm Al Quwain, Ajman, Fujairah and Sharjah. Possible punishment includes imprisonment, fines, deportation, and the death penalty as well as hormone treatment and chemical castration.