"Racy internet pleasure?" Webafrica accused of transphobic ad campaign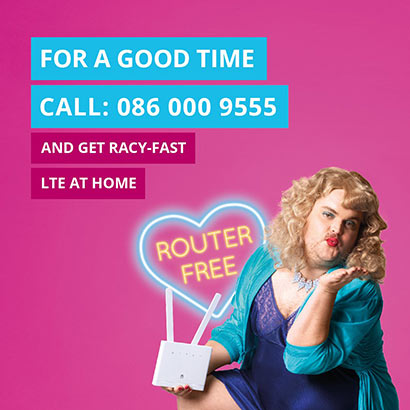 A new campaign for South African internet service provider Webafrica, featuring men wearing women's clothing, has been slammed for being transphobic.
The ads promoting the company's LTE products are prominently featured on its website and social media platforms.
Seemingly intended to be humorous, the campaign is based around images of stubble-faced men in make up and wigs dressed in women's clothing leering at the camera in seductive poses.
The accompanying text states: "Racy-fast, no strings attached Internet pleasure. For a good time online."
Juanita van Zyl, who identifies as a transgender/intersex woman, first saw the ads last week on social media. Two days later she received an email from Webafrica that also featured the campaign.
"Not only did I find it harmful and offensive, I was highly disgusted because they highlight a typical Transgender stereotype in their ad campaign," she wrote on her blog.
According to van Zyl: "As Trans Women, we fight daily to break down all kinds of stereotypes and here we have a company deciding those exact stereotypes are what they needed for an ad campaign.
"Daily we fight against this notion that we are men in dresses, daily we fight just to be recognized for who we are. These tropes often lead to violence being committed against transgender women."
Van Zyl said that negative representations of transgender people have made them feel excluded from society. "Just like in the Webafrica ad, we are often portrayed as 'jokes' and in some instances portrayed as disgusting, freaky or in this case, sexualised."
Van Zyl, who called for the ads to be pulled, told Mambaonline that she has cancelled her account with Webafrica. She has also emailed the company repeatedly but it has yet to address her complaint.
"These ads are nothing more than Transmisogyny. It takes our femaleness and relates it to maleness devaluing who we are, and thus opening us up to ridicule, hatred and violence," she wrote. "This is where Sexism and Transphobia (Trans Antagonism) meets. In these ads we are mocked, and fetishized."
Mambaonline has contacted Webafrica for comment.
Don't get tied down! Get our #RacyFast LTE at home service today & get a FREE ROUTER. Go on, get it! https://t.co/iBI3EIQ3Ti pic.twitter.com/f4QjgRCij2

— Webafrica (@webafrica) October 20, 2017
Click on the link below for a good time and to get racy-fast Webafrica LTE at Home internet https://t.co/9gI3Q5Rfk9 pic.twitter.com/MiBfmpSwNH

— Webafrica (@webafrica) October 18, 2017