Tanzania arrests | Mom demands daughter's freedom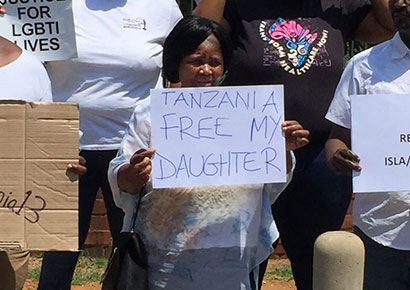 The mother of one of the 13 people arrested in Tanzania for "promoting homosexuality" joined dozens of protestors calling for the detainees' release.
On Tuesday, activists demonstrated outside the Tanzanian High Commission in Pretoria, outraged at the refusal of the country's police to release the group.
The 13 were arrested last Tuesday in a raid on a hotel in Dar es Salaam. They were meeting to discuss a legal challenge to the Tanzanian government's ban on HIV services to men who have sex with men and other at risk groups.
Among the detained are two South African human rights lawyers from the Initiative for Strategic Litigation in Africa (ISLA), including the organisation's Executive Director, Sibongile Ndashe.
Her mother, Winnie Ndashe, stood outside the High Commission on Tuesday holding up a handwritten sign that demanded: "Tanzania, free my daughter."
She told News24 that she has been in touch with Sibongile on a daily basis and that she is not being mistreated.
"My daughter advocates for the freedom of other people so hearing that she was arrested while fighting for other people's rights is something that worried me but I'm confident that she will be released because God is always there," Winnie said.
Other protestors held up placards that read, "We demand justice for LGBT lives" and "What are the charges?"
Despite being arrested more than a week ago, the 13 have yet to be charged with any crime or granted bail. Although police claimed that had been "promoting homosexuality", this is not a crime in Tanzania.
Activists believe that the arrests are completely unjustified and are nothing more than harassment and intimidation of the LGBTQ community, which has come under increasing fire in Tanzania in the last 12 months.
Earlier this year, the government shut down 40 facilities around the country that offered life-saving HIV services to men who have sex with men.
Health Minister Ummy Mwalimu claimed that the provision of lubricants and condoms at these centres was proof that they were intent on "promoting homosexuality" among young people.
There have also been a surge of arrests of people accused of homosexuality-related charges. Sex acts between men are illegal in Tanzania and carry a maximum penalty of life imprisonment.
Pics by Lerato Phalakatshela