Report: Joburg office party turns into homophobic brawl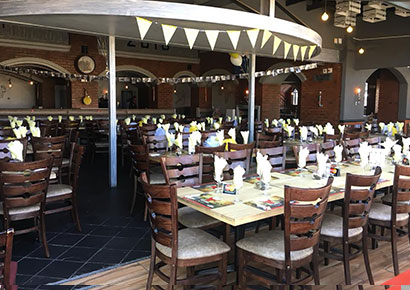 A leading real estate company's office party in Johannesburg has reportedly led to a gay couple being abused and bashed.
Journalist Hilton Tarrant was among those who wrote on Facebook about the disturbing incident at the Picanha steak house and pub in Northriding on Friday.
He claimed that "a group of despicable, very drunk and clearly homophobic" Rawson Property Group estate agents "hurled hate speech and abuse at a young couple immediately behind us who had barely been there for 15 minutes".
Tarrant wrote that, "This escalated into a full-on brawl, which peaked with a heavyset Rawson agent… literally body-slamming both of the guys to the floor one after the other."
He said that Rawson agents threatened "physical abuse at those of us around this situation who were trying to calm it down by asking these clearly very drunk people to leave".
A woman, who was with the couple, was also allegedly threatened after she tried to take pictures of the melee. Tarrant further accused the agents of verbal abuse.
He said that the individuals, whom he described as a "mob", wore Rawson Properties branded clothes and drove in Rawson-branded vehicles.
Colette Diamond also posted about the incident on the Rawson Properties North Riding / Douglasdale page, stating: "When you go to the pub on a Friday night and behave badly, by getting into bar brawls and lying on the furniture, you should not be wearing your very distinctive Rawson uniforms. I will certainly not be using your services in the future. #christmaspartygone wrong #rawsonthugs #prfailure."
She confirmed in a later post that her comment was subsequently removed from the page.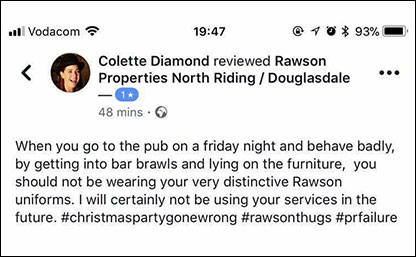 According to the Picanha Facebook page, the event was to celebrate Rawson Properties North Riding / Douglasdale's 10th anniversary.
The branch did not address the claims on its page, but Jan Oberholzer, owner of the Northcliff office, did comment on one of the posts.
"Thank you for bringing this incident to our attention," he wrote. "The Rawson Property Group does not condone any behaviour that brings the Rawson brand into disrepute. Rawson Head Offices launched an investigation into this matter and will instigate the necessary disciplinary action."
Mambaonline contacted the Rawson head office in Cape Town and was told that the incident is indeed being investigated and treated as a "very serious matter". The company said it will be issuing an official statement shortly.
If you witnessed the incident or know the alleged victims, please contact us on info@mambaonline.com.