Watch: Aussie MP proposes to boyfriend in parliament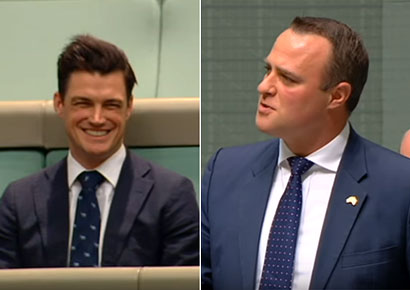 In what could be a world first, an Australian MP has proposed to his same-sex partner while addressing parliament.
During a debate on the introduction of a same-sex marriage bill, Liberal MP, Tim Wilson, 37, fought back tears as he thanked his partner, primary school teacher Ryan Bolger, 34, for the sacrifices he'd made for their relationship.
"This debate [about same-sex marriage] has been the soundtrack to our relationship," said Wilson to Bolger, who was watching in the public gallery.
The MP noted that in a speech last year he had told parliament that he was unable to formally ask his partner to marry him because same-sex marriage was not then legal in Australia.
Now, however, with efforts to fast track marriage equality legislation, "there is only one thing left to do," said Wilson.
Looking up at his boyfriend of more than a decade, he asked: "Ryan Patrick Bolger, will you marry me?"
Bolger beamed with delight and replied firmly, "yes".
The proposal was met with applause and cheers from others in the House of Representatives.
Deputy Speaker Rob Mitchell welcomed the proposal and told the chamber: "We should let Hansard [the parliamentary transcript] note to record that was a 'yes', a resounding 'yes'."
It was confirmed as the first known engagement on the floor of the Australian house, and could well be the first same-sex marriage proposal in any national parliament.
The two men first met in 2004 at a Liberal Party meeting in Melbourne. They have been together for 13 years, and informally engaged for seven.
In recent years, the couple have become very public symbols in the fight for marriage equality in Australia.
Last month, 61.6% of Australians voted in favour of legalising same-sex marriage after a divisive postal survey.
In response to the outcome of the poll, Prime Minister Malcolm Turnbull promised to pass legislation allowing gay and lesbian couples to marry by the end of the year.