A promise to God? Top wedding photographer refuses to cover gay wedding
Two Cape Town men have been left humiliated after a leading wedding photographer cancelled their booking when he discovered they are a gay couple.
In May,  event planner Frikkie van Zyl contacted Nelis Engelbrecht to photograph his March 2018 wedding in Ladismith to partner of ten years, Davide.
Engelbrecht is an award-winning photographer and belongs to a number of professional bodies and associations, including the International Society of Professional Wedding Photographers.
All appeared to be in order until van Zyl received an email from Engelbrecht on 21 November, unexpectedly cancelling the booking.
Engelbrecht explained that his PA had handled most of the correspondence and that he had only then realised that the wedding would be of a same-sex couple. As a result, he said, he could not provide his services to them.
"I don't judge, I'm not allowed to, I love everyone under the sun," Engelbrecht wrote. "But I made a promise to God that I would never photograph a same-sex wedding."
He said he could never go against "my principles, no matter how much money someone paid me." He added: "It's just a personal thing, nothing to do with the people."
Engelbrecht offered to refund the couple their money. "Please don't judge me," he asked, "it's just a promise I made to God that I don't want to break."
A mortified Van Zyl responded to Engelbrech: "Not sure which God is your God, but our God is a God of love and by the look of it they are not the same God."
He continued: "To base your success on such a promise, you have judged me. I was actually profoundly shocked by the effect your words had on my soul yesterday and how dare you judge me for loving Davide.
"I am sorry but I can't respect you for that, because by doing that I acknowledge that my love is wrong and condemned."
In an emotional Facebook post on the day of the rejection, Van Zyl wrote that "today has been a very hard one".
He said: "I have never been in a position (ever) in which someone made me feel unworthy for who I am… No one has the right to make me feel as if I am shameful, non worthy of love or in the wrong in anyone's eyes for being gay."
Van Zyl told Mambaonline that he and Davide felt "disrespected and judged" by Engelbrecht and as if "our love is not allowed in his world".
Van Zyl argued that a service provider to the public should not be allowed to turn away clients on the basis of their personal or religious beliefs. He pointed out that one of the reasons the couple chose Engelbrecht to photograph their special day was because of his membership of various professional associations.
"This should mean that that they [photographers] are open, professional and will not turn away work based on their personal issues," he said.
Peter Hassall, National President of SA Professional Photographers – South Africa's sole professional photography trade body – agrees.
He told Mambaonline that he was "astounded that this is even an issue in today's world" and that "I would be dismayed if anyone I knew had such an attitude, whether they were members of our association or not".
Hassall admitted, however, that the issue had never come up before and that "it is something that we never even thought of when the [organisation's] constitution was developed".
He did not respond to Mambaonline's follow-up query as to whether the association would now consider adding an LGBTIQ anti-discrimination clause to its constitution.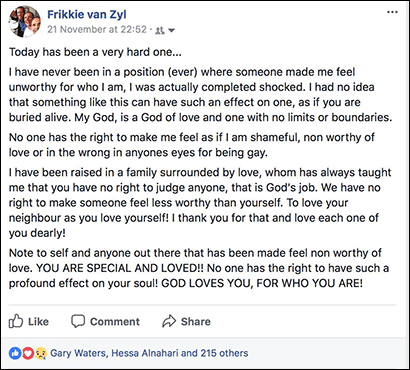 Mambaonline also contacted Engelbrecht for his response. We asked why none of the platforms on which he markets his services clearly state his anti-same-sex wedding stance.
Despite his promise to have his lawyer be in touch, and a further request for comment from us, we have not yet received any feedback.
There have been numerous cases of discrimination against same-sex couples within the wedding industry in South Africa since same-sex marriage was legalised in 2006. Wedding venues in particular continue to turn away gay and lesbian couples.
In August, Beloftebos, in the Western Cape village of Stanford, made headlines after it refused to allow a same-sex couple to marry at the venue.
Constitutional law expert Pierre De Vos has repeatedly asserted that business owners cannot use their religious beliefs to deny LGBTIQ people service.
It is not only unconstitutional to do so but it also violates The Equality Act, which prohibits the denial of services on the basis of sexual orientation.
Van Zyl says he has filed a complaint against Engelbrecht with the SA Human Rights Commission.