Conversion therapy teen drama wins top Sundance prize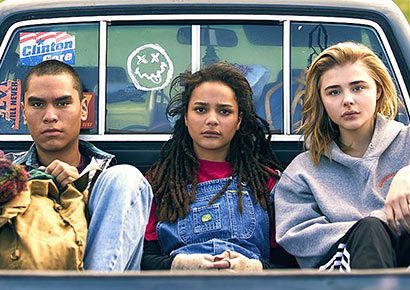 Another queer film is making waves in the movie world. This time it's The Miseducation of Cameron Post, which tackles the controversial and very relevant subject of LGBT conversion therapy.
On Saturday, the American film won The US Grand Jury Prize, the top drama honour at the prestigious Sundance Film Festival. The movie, which premiered at the festival, is based on the 2012 coming-of-age novel by Emily M. Danforth.
Set in 1993, The Miseducation of Cameron Post tells the story of a teenage girl named Cameron Post who is caught in a sexual encounter with the school prom queen.
Cameron is then forced into a Christian gay conversion therapy center by her evangelical aunt and uncle, who are her legal guardians.
It's directed by Desiree Akhavan and stars Chloë Grace Moretz, Sasha Lane, John Gallagher, Jr, Forrest Goodluck, Jennifer Ehle and Quinn Shephard.
"On behalf of the entire Cameron Post team we want to dedicate this to the LGBTQ survivors of sexual conversion therapy," said Moretz in an acceptance speech in Park City, Utah.
"We just wanted to make this movie to shine a light onto the fact that it is only illegal in nine states out of the 50 states in this country to practice sexual conversion therapy."
The film has been praised for addressing the impact of the dangerous and widely discredited practice of trying to change someone's sexual orientation or gender identity through "therapy".
It's success at the festival comes in the wake of new research that found that approximately 698,000 LGBT adults in the US have received conversion therapy at some point in their lives, including about 350,000 who received it as adolescents.
The Miseducation of Cameron Post joins three other LGBT-themed films that have recently received international critical praise. This includes the South African film, Inxeba (The Wound), the Oscar-nominated international production Call Me By Your Name and the British-made God's Own Country.