This Grahamstown school just rejected anti-gay religious bigotry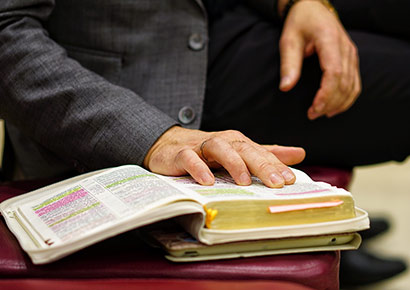 Pupils at a private Christian boy's school in Grahamstown have stood up against a guest preacher's sermon that condemned homosexuality and described same-sex marriage as satanic.
On 3 May, Theuns Pauw from the African Enterprise international ministry was meant to address pupils at St. Andrew's College about "the trappings of pornography and social media".
He delivered a sermon at the school chapel but instead of sticking to the agreed topic, Pauw used the platform to also lash out against LGBTQ people, same-sex marriage and divorced parents.
According to witness reports and recordings, Pauw said to the shocked students and staff that "God made Adam and Eve, and not Adam and Steve," adding that "it's unnatural and ungodly".
He further railed against adultery and criticised parents who get divorced, calling them a "failure". He added that if any of the boys get divorced in the future, "your kids will hate you" and they will be "ruined for life".
Pauw went on to state: "The devil is doing his very best, and is getting it right in most parts of the world, to redefine marriage so that Adam and Steve can now get married. It's crazy! Do you want to be part of that? Do you want to be a statistic? Or do you want to end up with God one day?"
Pauw also addressed the link between pornography and masturbation and said, "why do you think that Jesus spoke about chopping your hand off?"
Geir Wilson, a 17-year-old matric pupil at the school, who has a gay brother and identifies as an LGBTQ ally, was left enraged at the sermon. "The reaction was just shock. everyone was quite take aback. No one really knew…. is this guy being serious?" said Wilson.
"Everything in me just wanted to stand up and tell this man that he is speaking utter drivel and that everything he is saying is wrong. For him to sit there and tell my that my family and friends are unnatural, that they are going to burn in hell and that they don't belong in our society… I was just angered. I was shaken. I cried a little bit."
Wilson and some of the other boys complained to headmaster Alan S Thompson straight after the service, as did outraged staff members. "One staff member was in tears," Thompson told Mambaonline, "and the other housemasters were shaken, incandescent in some cases."
Thompson and the school immediately canceled a second talk by Pauw scheduled for the next day. The school's chaplain then called all the boys back together and apologised for what had been said and for the hurt caused. Counseling was also offered to anyone who needed it.
That same day, Thompson sent a letter to pupils and parents apologising for Pauw's "judgmental and confrontational" sermon.
"His views do not represent those of St. Andrew's College, nor did we have any idea that he would be raising them. We will use this as a learning experience to ensure that the very positive progress that we are making in creating a tolerant, progressive, forward think school is maintained."
He added in the letter: "St. Andrew's College stands for inclusion, tolerance, and respect, so that every boy may celebrate his own unique giftedness and flourish."
Thompson later said to Mambaonline: "There are a large number of boys in the school who are working their way through [their parents'] divorce and a number of boys in the school who are working their way through their sexual identity and sexuality. And this [sermon] has just undone years of work…"
Thompson said that African Enterprise had initially approached the school about a possible talk. "They are quite a big organisation and they are doing a whole youth mission in Grahamstown and they went to all the schools.. and we genuinely thought it was a safe and appropriate topic… talking on social media and pornography. They are quite a reputable organistion."
Wilson expressed his satisfaction with the way his school handled the matter. "They really did an amazing job of taking all the steps to ensure that everybody was okay after the incident and making it very clear that they did not condone the views," he said. The teen also took to social media to call on those offended by the sermon to lodge a complaint with the SA Human Rights Commission.
Mambaonline reached out to Pauw, who is the South Africa Director of African Enterprise, for his comment about the furore. He explained that he had spoken to the pupils at the school from a Biblical perspective.
"I chose to frame the short talk with the Biblical portrait of marriage, as I do not know how to speak about the dangers of pornography without speaking about sex, and I do not know how to speak about sex without speaking about marriage, which is where God has ordained for it to be enjoyed as a gift."
He argued that "marriage was instituted by God as a holy and permanent union between a man and a woman, and that the Bible refers to marriages countless times and it is always between a man and a woman."
With regard to his statements about divorce and "failure in marriage", Pauw said that he simply intended to show that "from a Biblical perspective, marriage and family are more important than your job". He added that his wife comes from a divorced family. "I have great compassion for children from broken homes and only desire for them to have happy and healthy marriages themselves one day."
Pauw did offer an apology of sorts. "Against the above background, I would nevertheless like to apologise for any hurt that any persons present during my message, and also anyone who has heard about it or read the posts concerning the talk on social media, may have experienced. My intention was not to hurt anyone, and in retrospect I could have better qualified some of the statements made."
For the headmaster, such literal views on the Bible and Christianity are outdated and damaging. "They are contrary to everything that we try and inculcate in our boys; that they have their own unique God-given presence that is worthy in its own right," said Thompson.
"[These views] represent a school of thought that pushes that hard literal scriptural 'turn or burn' sort of narrative. It has done more to turn the boys away from God than it has helped."