H&M to release LGBTQ pride collection to "celebrate diversity"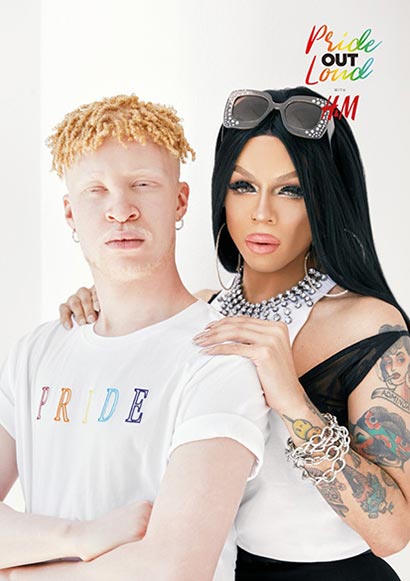 Following its racism scandal in January, global retailer H&M will be releasing a clothing collection to celebrate LGBTQ Pride.
The 70s-inspired Pride clothes will be launched on 31 May and will include a range of items – such as t-shirts, shorts, jeans, caps and socks – featuring rainbow colours, prints and slogans.
A photo and video campaign, created with Out magazine, to promote the line will highlight LGBTQ influencers and role models. These include Olympic freestyle skier Gus Kenworthy, pop artist Kim Petras, model and activist Gabrielle Richardson, RuPaul's Drag Race star Aja, and model and musician Shaun Ross.
Ten percent of the profits made from the sale of the clothes will go towards the United Nations Human Rights Office Free & Equal campaign, which promotes the equality of LGBTQ people around the world.
It is the first time that the company has created a "cohesive line" to show its support for the LGBTQ community.
"H&M believes in everybody's right to love who they want," Andreas Lowenstam, H&M's head of men's wear design, told wwd.com. "We hope people can use H&M's Pride collection to celebrate their belief in equal love."
H&M spokesperson Emily Scarlett commented: "Equality, diversity and inclusivity have been deeply rooted in our values for a long time." She added that the collection will both celebrate "diversity" while "celebrating the joy of fashion."
The release of the Pride collection is timed with the start of the Pride season in many countries in Europe and in North America. While the clothes will be available in stores and online in the US, it's not yet clear if they will be sold in South Africa or elsewhere in the world.
In January, H&M was embroiled in a global racism furore over images on its website of a black child model wearing a sweatshirt with the slogan "coolest monkey in the jungle". The company was forced to apologise and the controversy led to a number of protests in some stores in South Africa.
Sportswear clothing brands Nike and Adidas have previously released rainbow coloured themed shoes and clothes in support of LGBTQ Pride.