Breaking! Anti-trans feminists disrupt London Pride parade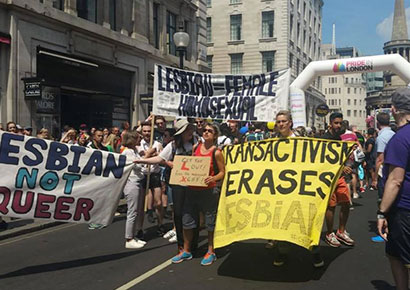 A group of radical anti-trans feminists has disrupted the London Pride parade to protest what they termed lesbian erasure and the "anti-feminism of transgenderism".
The organisation, Mayday4Women, apparently jumped in the front of the parade in the British capital on Saturday, leading to scenes of confusion and anger.
The women held up banners that stated "Lesbian=Female Homosexual" and "Trans activism erases lesbianism." According to its website, the group espouses the Trans-Exclusionary Radical Feminist (TEF) stance that transgender women should be not be confused with biologically born "real women".
According to reports, following negotiations, Pride organisers allowed the group to lead the parade. It also appears that at one point the women blocked the procession by lying on the ground.
The group's action were deemed by many as transphobic and led to a furious debate on social media. The event's organisers came in for criticism for allowing the organisation to express its hate speech views at what should be a "safe space" for the LGBTQ community.
Lesbians block the front of the #LondonPride march to protest lesbian erasure. Everyone went nuts. Lots of support and opposition. Now stewards trying to remove them. #GetTheLOut #Pride pic.twitter.com/aHh18v56kW

— Jen Isaacson ?? (@isacsohn) July 7, 2018
Gutted to hear this is happening at #PrideInLondon right now. My trans friends please know you're loved and this is your day too, despite any who might discourage you from feeling so. https://t.co/UwZwXvnlX9

— Alexander Lyons (@AlexanderLyons) July 7, 2018
So, questions for you @PrideInLondon, @MayorofLondon and @metpoliceuk. Why did you not remove the anti-trans protesters who were there without permission and why was the only action taken to warn off trans women who protested their hate speech.

— Kate Newsome (@MsKateNewsome) July 7, 2018
We demand an explanation from @PrideInLondon as to why they have allowed anti-trans hate campaigners to not just march, but actually encouraged their hate! This is a disgusting, hurtful and damaging stain on the LGBTQ+ community & cannot go unacknowledged #prideinlondon #Pride

— Natalie (@Transsomething) July 7, 2018
Another pic from the amazing lesbians who led the #pride march today. #GetTheLOut #PrideInLondon
"Lesbian = female homosexual"
Apparantly this is contraversial enough that they were asked to remove the banners. Sounds like they managed the whole march though. Xx pic.twitter.com/v1q8xGJTJK

— NurtureMyBaby (@NurtureMyBaby) July 7, 2018