Boity Thulo regrets "crass and offensive" homophobic tweets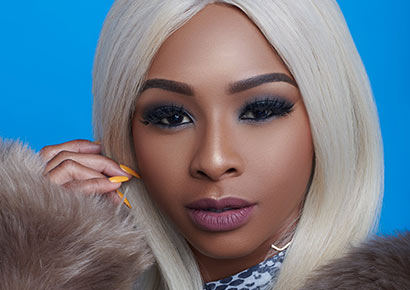 Boity Thulo has apologised after a series of nasty homophobic tweets from her past were dug up and shared on social media, but has all been forgiven?
In the tweets, dating back almost a decade, the popular South African actress, TV personality and now rapper, lashed out at gay characters on local soap series, Generations.
"oh f**k me… what is up with the gay shit on these soapies?? This side, it's undecided lesbians, on the other it's n****s suckin tongues. nxa!" she said in September 2009.
The following year she also wrote about actor Thami Mngqolo, commenting: "This dude is exactly like Senzo. How creepy …And I think he might be gay. Lord forbid. Death."
A now-regretful Thulo made no attempt to try and defend herself and admitted that the comments were both genuine and inexcusable.
"A decade ago, I was naive, homophobic, young and didn't know better," she told her more than 2,4 million followers. "I was 19 and my views on sexuality were warped. We grow, our views change and we do better. It's gut wrenching and embarrassing to see them now however I am not the same person I was 10 years ago."
She went on to add: "I'm very sorry to every person that felt offended by those tweets." When someone said she didn't have to apologise for expressing her views, Thulo responded: "Of course I do. The tweets are offensive and crass. I had to apologize."
Some of her fans graciously accepted the apology, especially as the comments were made so long ago. "Boity is not Homophobic though. The first time I met her was at Gay Pride and she was there at her own Free Will. Not paid or booked. A very gracious and humble young lady. I choose to stand with the Human Being I know than some Tweets from 800 Years ago," wrote Nkululeko.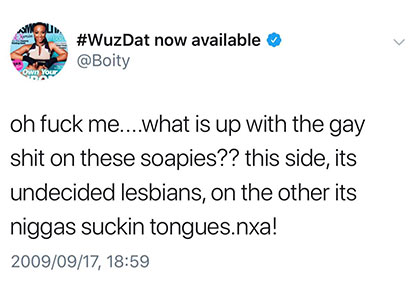 Others, however, said it was hypocritical to let her off so lightly. One user commented that many are quick to want to "ruin" some people's live for being racist but "Boity's homophobic remarks gets a pass…" Another argued that an apology was not enough and that the star needs to offer some "sort of a plan moving forward, to make up for your ills…"
Thulo, however, seems to have quickly moved on from the furore and it's been business as usual. Her tweets have since focused on publicising her Cosmopolitan cover, an appearance on television's Real Talk and the success of her single WuzDat.
A decade ago, I was naive, homophobic, young and didn't know better. I was 19 and my views on sexuality were warped. We grow, our views change and we do better. It's gut wrenching and embarrassing to see them now however I am not the same person I was 10 years ago. ❤

— #WuzDat now available (@Boity) September 3, 2018
I'm very sorry to every person that felt offended by those tweets. ??????

— #WuzDat now available (@Boity) September 3, 2018
Boity is not Homophobic though. The first time I met her was at Gay Pride and she was there at her own Free Will. Not paid or booked. A very gracious and humble young lady. I choose to stand with the Human Being I know than some Tweets from 800 Years ago.

— Nkululeko (@Za_Maniac) September 3, 2018
To the people that's saying we must look at the date and that shes not that person anymore more, fuck y'all, Y'all the same hoes that will cancel and ruin a person's life because they were rasicts in the past but with boity's homophobic remarks gets a pass, Yall need to be moered pic.twitter.com/fcWRuKFP7F

— ? ????? (@royalconflict) September 2, 2018
I also believe apologies should:
1. Acknowledge the problem at hand
2. Show remorse
3. Consist of some sort of a plan moving forward, to make up for your ills, to avoid going back and forth.
But hey, if half-baked apologies is what we are settling for, I'll sit it out. pic.twitter.com/S0lbUlMUt9

— M O G A L E (@MOWGALE_L) September 4, 2018