WITCH-HUNT OF GAYS BEGINS IN UGANDA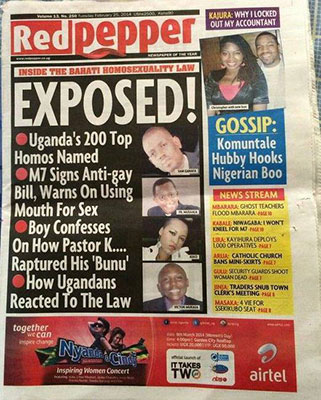 Following the enactment of the Anti-Homosexuality Bill in Uganda on Monday, the notorious Red Pepper tabloid has published the names of what it claims are 200 gay people.
Under a front page headline "EXPOSED!" the newspaper said it was naming "Uganda's 200 top homos."
While some of those listed are well-known LGBT activists such as Pepe Julian Onziema, others named are not out. These include a Catholic priest and popular Ugandan female hip-hop star Keko, who recently spoke out against the anti-gay law.
Dangerously associating homosexuality with paedophilia, the newspaper also ran a story under the same headline with the description: "Boy confesses on how Pastor K… raptured his 'Bunu.'"
The Red Pepper tabloid has a history of sensationalistic stories that have helped fuel homophobic sentiment in Uganda.
Since 2006, it has outed gays and lesbian in its pages, often revealing private information that would easily allow them to be found.
In 2009 it named the country's "top homosexuals," not only showing photos of some of these men and women, but also including identifying features, places of employment, residences and their partners.
In 2010, in an article titled "City tycoons who bankroll Ugandan homos," it published the names and personal details of people who it claimed were supporting gay rights groups and individuals. There have been reports that some of the gays and lesbians outed by Red Pepper have been attacked and harassed.
In October last year, Bernard Randall, a British retiree living in Uganda, and his house guest Albert Cheptoyek were arrested for "trafficking obscene publications" and "committing "acts of gross indecency" after Red Pepper exposed the British man's private sex video which had been stolen from his home.
In January, Randall was deported back to the UK but it's unclear what has happened to Cheptoyek.