Watch the gay family scene that's been banned on DSTV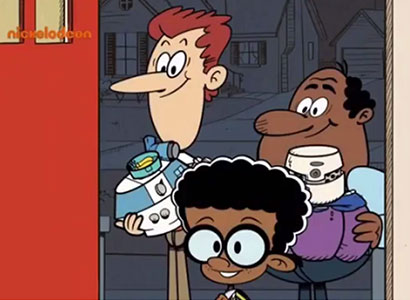 The animated series The Loud House has become the latest show to be censored in South Africa due to gay content.
Viacom International Media Networks (VIMN) Africa, located in Johannesburg, has dropped an episode of the children's show because it features a bi-racial gay couple and their son, which are not seen as "family" in parts of Africa.
The company "reassured" its bigoted subscribers that the episode will not be shown on DStv's Nickoledeon channel because it "strives to ensure that content respects the varying traditions and family values in each country".
The gay couple, Harold and Howard McBride, are seen briefly as they drop off their son, Clyde, at a party; a brief scene that's been deemed "inappropriate" by television regulators in some African countries.
The introduction of the McBrides in The Loud House has been lauded internationally as normalising same-sex families. The humorous but innocuous scene doesn't make a big deal about the couple's sexuality and focuses on their over-protectiveness towards their son.
Because the Nickoledeon channel is broadcast on a single DSTV feed across the continent, South African subscribers will also be deprived of seeing the episode.
VIMN insisted to Channel24 that it's "committed to diversity and inclusiveness" but said that it had no choice in the matter because of "regulatory codes in certain markets".
The censoring of DSTV content in South Africa due to prejudiced and homophobic regulators and viewers in other countries is becoming increasingly common.
In May, DTSV announced that Caitlyn Jenner's reality show I Am Cait would no longer be screened in South Africa and the rest of the continent due to "repeated complaints" in Nigeria about the show's depiction of transgender issues.
In October last year, DSTV also dropped the acclaimed American reality series I Am Jazz, about a transgender teen, from its schedule after complaints from Nigerian viewers and threats of censorship.
We believe that these acts of censorship set a dangerous precedent when it comes to freedom of speech and expression. We have launched a petition calling on the broadcaster to stop censoring LGBT content. Click here to sign on.
Watch the "offending" scene from The Loud House below.
Time to make history indeed! First married gay couple on a Nickelodeon cartoon!https://t.co/CI5NPmd7JU

— ㅤ (@Ieodavinci) July 16, 2016