Africa's 2nd LGBT medal! Caster Semenya takes gold in Rio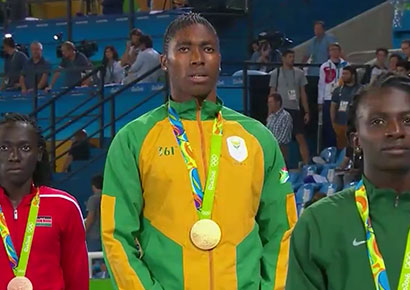 South Africa's Caster Semenya has won the 800m gold medal at the Olympic Games – the second LGBT African athlete to win in Rio this year.
The 25-year-old ran a  national record time of 1:55.28 to beat Burundi's Francine Niyonsaba in second place (1:57:69) and Kenya's Margaret Nyairera Wambui in third place.
South African Sunette Viljoen, who was the only other openly LGBT African athlete at the Games, and who won a silver in the women's javelin throw, congratulated her teammate.
"So proud of you @caster800m!" she tweeted. "Not only for all your achievements, but for the obstacles you've had to overcome. I salute you."
Former government minister Jay Naidoo also tweeted his congratulations, but touchingly singled out Semenya's spouse. "#CasterSemenya number 1 fan Wife Violet Ledile Raseboya. Thank you for being there for our heroine. We love u also," he said.
Semenya's win followed weeks of unprecedented controversy and what many described as bullying by the media and other athletes who believe that she should not have been allowed to compete.
It's been alleged (but never officially confirmed) through leaked documents that Semenya has unusually high testosterone levels; a condition known as hyperandrogenism. This, say her critics, gives her an unfair advantage over other female athletes.
Last month, British marathon runner Paula Radcliffe caused an uproar when she said that if Semenya competed "it's no longer sport and it's no longer an open race." She suggested that this was like allowing state-sponsored doping in sport.
Semenya's defenders point out that these views rely on arbitrary definitions of what defines a woman, and that male athletes have no limitations when it comes to their hormone levels.
They also argued that all athletes have some physical traits and advantages that allow them to achieve in the extreme world of competitive sport.
In fact, according to Bioethics expert Silvia Camporesi, more than 200 genetic variations have been identified that provide an advantage in elite sport.
"So then why is hyperandrogenism singled out as a biological variation that makes competition unfair?" she asked. "It is singled out because it challenges our deeply entrenched social beliefs about women in sport in a way that other variations do not."
South Africans have rallied around the athlete on social media with the hashtag #HandsOffCaster trending on Twitter in the past weeks. A petition was also created calling for an end to the "cruel bullying campaign" against the athlete.
Semenya herself has been defiant, tweeting her thanks to her country and posting memes such as one that said: "I truly believe my haters are my motivators."
On Wednesday, she wrote: "Thank you South Africa… I feel proud to be a South African ..Thanks for the Love and Support..  I'll make you proud."
Semenya first made global headlines in 2009 when she won the 800 metres at the Berlin Athletics World Championships and then became the subject of investigations, medical tests and brutal and humiliating speculation about her gender and sex.
The IAAF has never released the results of its tests but in July 2010 gave Semenya the all-clear to compete. She went on to win the silver medal in the 800m at the 2012 London Olympic Games.
In December last year, Semenya took her long-term relationship with fellow runner Violet Raseboya to the next level in a traditional ceremony that was described as a wedding.
A record-breaking 49 (at least) openly LGBT athletes have taken part in this year's Games.